Impranol Elan Top Coat - Chestnut
SKU:
DDEXIMPRANOLELANCHESTNUT750ML
---
About this product
Impranol Elan - Chestnut is a solvent-based stain for wood used outdoors. Used for protecting and decorating wood, this product contains no biocides.
Particularly suitable to be used on elements which have to maintain their dimensional stability, such as doors, this product has excellent, long-lasting protection against weathering.
Extended resistance to weather and UV with light-resistant pigments
Especially suitable for elements which have to maintain dimensional stability (e.g. doors and windows)
Easy to apply - good for spraying and brushing
Dry to touch in approx 6 hours, can be overpainted in approx 12 hours
Produced in Germany, Impranol is a high-performance product which offers a translucent finish allowing you to enhance the natural grain of the timber.
This product is a great choice to not only protect but enhance the look of your external door. This Chestnut stain will create a professional and aesthetically pleasing finish.
Impranol is a 2 part system, to obtain maximum durability and a great finish, first, apply a base coat of Impranol Colour and then three coats of Impranol Elan.
Finish
Impranol Elan - Chestnut achieves a chestnut finish similar to the sample below: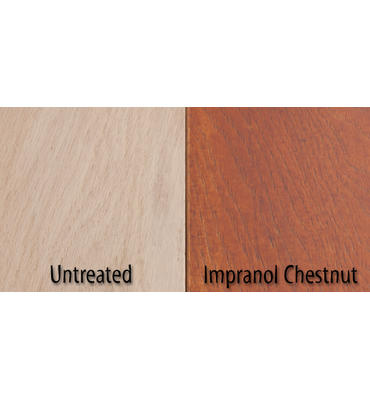 Please note: Colours shown are indicative only, different timbers will take colours differently.
We advise doing a sample before fully applying.
Impranol is easy to apply and can be either brushed or sprayed to achieve the required finish.
The surface should be dry, clean and offer good adhesion.
Using a flat brush, the product should be applied following the direction of the fibres. This product should not be applied at temperatures less than 5 degrees Celsius or in blazing sun.
Under normal weather conditions, the finish will be dry to the touch after approximately 6 hours and able to be overpainted after approximately 12 hours.
To obtain maximum durability and a great finish, first, apply a base coat of Impranol Colour and then two coats of Impranol Elan.
For safe handling, use, processing, storage, transportation, disposal and release, please refer to the safety guidelines which can be downloaded via the following link: Safety Information.
If there is anything you are unsure of, our friendly team are here to help.
Give us a call to discuss on 0114 2557800 or drop us an email at info@doordeals.co.uk.