About us
At Doordeals we understand that our customers are our business, so we ensure that we treat every customer as we would like to be treated ourselves. We always try our best to meet your needs by offering help and advice on our complete range of internal and external doors. Thanks to many years in the industry, we have developed in-depth knowledge and expertise in all aspects of timber doors allowing us to answer any enquiry you may have and offer a "one-stop" shop for all your door needs.
Doordeals Warehouse on Broombank Road, Chesterfield.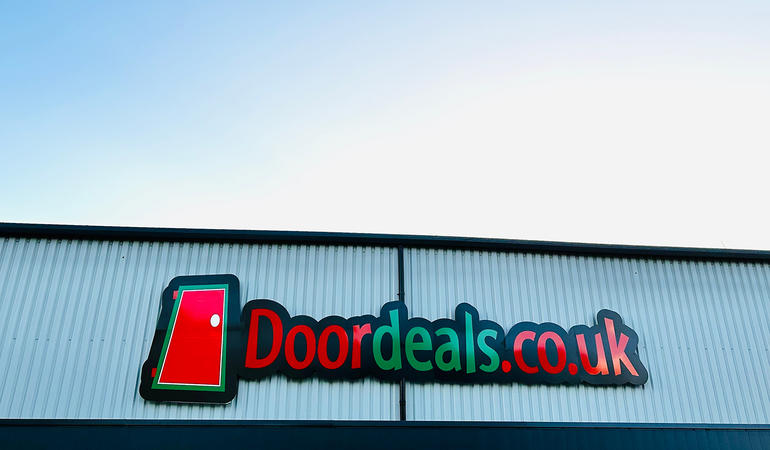 With roots going back to 1971 when our first store was opened in Sheffield, we've forged a reputation for good quality products, knowledgeable staff, fantastic prices and great customer service. Expanding further afield back in 2007 with the launch of our e-commerce website – continuing to focus on the same values that had served the family business so well - Doordeals is now one of the UK's leading independent online timber door retailers.
With 2020 seeing further expansion with a relocation to a much larger showroom, offices and distribution centre on Broombank Road in Chesterfield, Doordeals continues to grow and deliver more and more orders across the entire United Kingdom and beyond!
Supplying homeowners looking to change their front door to builders and developers looking for streets full of doors, our products are handpicked to offer great quality and choice for all of our customers, no matter what your taste or budget. With a large stock of popular sizes and styles, we pride ourselves on also offering a bespoke service, particularly helpful for those requiring non-standard door configurations. We offer everything from internal glazed doors to triple-glazed external doors, internal fire doors and even a 1930's front door.
We've invested in our own fleet of specially adapted vehicles and logistics provisions, to ensure that we can be flexible and offer the same great service from the point of enquiry, right up to the receipt of your items and beyond. We believe that the level of care and service offered by Doordeals is hard to find elsewhere on the internet or in large retail stores and when using our website you will receive the same level of service that you would if you had walked through the front door of our showroom.
Doordeals are constantly striving to bring you the latest products at competitive prices so we can offer a truly diverse range of quality internal and external doors and related accessories. With further product ranges and website developments over the horizon, we're excited to see what the future holds for our business and to stay at the forefront of our market.
For more information about any of our products or services, simply get in touch at 0114 2557800 or email info@doordeals.co.uk, we'd love to hear from you.