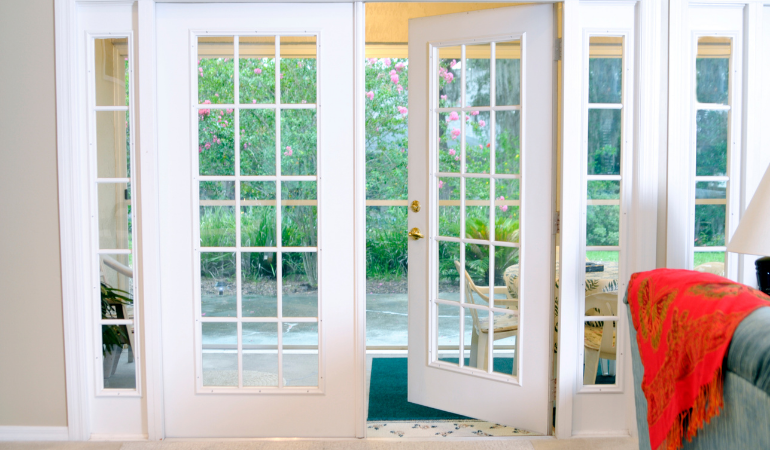 Choosing the right doors for your home can be difficult, especially when there are so many choices available. French doors are a very popular option for external doors and inside the house. However, if you've never had them before, it can be daunting choosing a specific style and getting them properly installed.
This guide covers everything you need to know about exactly what makes a French door, the different styles available for your home, how to choose the right ones and how to make sure they're installed correctly.
What is a French door?
Generally, French doors are made up primarily of glass with differing styles of timber framing. As you may have guessed from the name, they were originally invented in France and became popular during the renaissance in the 16th and 17th centuries.
The designers of the time discovered the benefit of having long glass pane doors acting like windows to let in more light. Fast forward to today and French doors remain to be one of the most popular interior design choices for both traditional and contemporary homes.
Different types of French doors
While the general definition of what makes a French door has stayed the same, there are now more options and variants available than ever. With a wider range of materials to choose from such as hardwood, softwood, hemlock and oak, French doors offer more versatility for styling and decorating homes.
External French doors
These are also known as French patio doors and are commonly used at the back of a house, opening up into the garden. Depending on the size and design of the house, it can range from a single set of double doors to a series of sliding doors. The main benefit of external French doors is to let more natural light into the house. They also allow greater flexibility in opening up space and greater access for things like furniture.
Internal French doors
These doors use the same design but are used inside the home, often in living or dining areas. The benefits of internal French doors include letting more light pass between rooms and helping to create a more open-plan feeling, particularly in smaller or naturally darker homes. Because they are being used internally, there's no need for weather-proofing which creates more options for materials and colour styles.
Sliding French doors
Sliding French doors offer the same stylish design with added practicality in homes where space is limited. The door panels are mounted on sliding rails and pulled apart parallel with the walls on either side, unlike traditional French doors which swing open. They are different to a standard patio sliding door which is usually just a single door that slides behind a stationary pane of glass, only giving half the space of sliding French doors.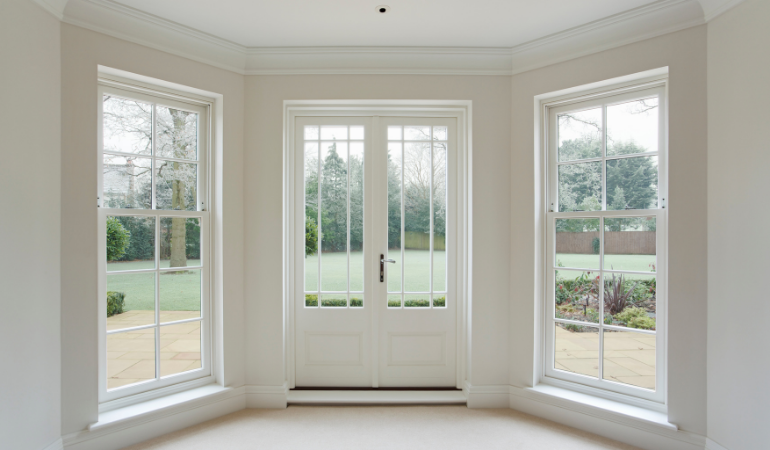 The benefits of French doors
Convenient access
One of the biggest benefits of installing French doors is the practicality of having easier access to your home or other rooms within it. Having a set of double doors that open up straight onto your patio lets you extend your home into the garden and create a more cohesive space for summertime reading or garden parties.
Using interior French doors also makes it much easier when moving things from one room to another as you have a larger opening making it much less awkward when manoeuvring large furniture.
Energy efficiency
As French doors are made up primarily of glass, it's easy to assume they may not be the best option when it comes to energy efficiency. However, this all depends on the type of glass they are installed with. Using double glazed glass panels will provide great thermal efficiency and the higher rating of the glass, the more energy you will save. At Doordeals, we also offer heritage glass which has a performance rating for energy efficiency.
The huge increase in natural light is another advantage of using glazed doors when it comes to energy efficiency. With more light coming into the house, there's less need to switch on the light which can save you a lot on energy bills over time.
Unique design
There are a handful of practical advantages to using French doors, both internally and externally, but the main reason so many people choose them is for their timeless style. Not only are the doors extremely versatile when it comes to their design, but they can also add so much texture to a room with the unique shadows and patterns it creates from natural light.
Added value
Installing French doors can add value to your home and increase the chances of a buyer making an offer when you come to sell. Getting them installed can be an expensive investment but in the long run, can increase the return you get as they're seen as a luxury addition and are often sought after by potential buyers.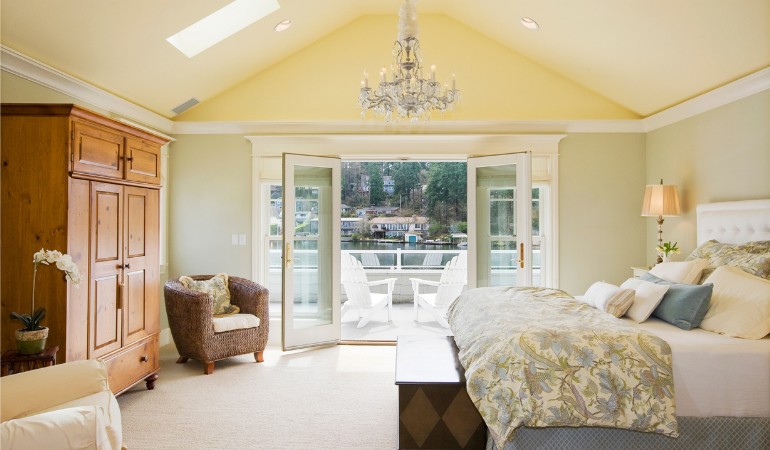 How to choose the right French doors
Think about the space you have
It's important to think about the space you have available in your home when deciding whether to install French doors. You may need to look at cutting sections out of your walls If you don't already have a large enough opening for double doors. If you're installing internal French doors or planning for them to open inwards.
Decide on the material
Choosing the right type of material will depend on your own personal taste, the style of your home and where the doors will be used. If you're investing in external French doors, you could opt for metal doors for added security or good quality wood for a more classic look that still provides sufficient thermal insulation.
Match your decor
French doors help to create more openness and add natural brightness to the home so it's important to choose a design and colour that compliments your decor. If you're aiming for a more minimalist, contemporary style, single panel French doors might be a good option. However, if you want a more classic look, you might want to opt for hardwood six-pane doors.
Tips for installing French doors
Measure your space
Before ordering or installing your French doors, it's important to get the right measurements so you know exactly what size doors you need. This will avoid any problems when it comes time for your or you're hired installer to fit them in place.
Hire a professional
If you're planning to install French doors in your home for the first time, we always recommend hiring a professional contractor or installer. Even for people with DIY experience, French doors can be tricky to install properly and it's important to make sure they are flush and sealed properly, especially for external doors.
Premium French doors from Doordeals
If you're hoping to upgrade your home with a set of French doors, we're here to help. At Doordeals, we specialise in providing a range of high-quality internal and external French doors, that suit a range of different styles. Browse our full product range and start saving more energy in your home.