Whether you're picking a new door or refreshing an old one, styling your internal doors in different ways can help boost the overall aesthetic of your space. Depending on the look you're trying to achieve different timbers, colours, accents and other elements can help elevate your interior.
In this blog, we've compiled some of the best combinations of doors, colour schemes and ironmongery to help you pick the right doors for your home, or elevate the ones you already have.
Read on for some inspirational interior door ideas for your home!

Types of Internal Doors
Even though some styles can be adapted to suit your interior, sometimes the style of door you've chosen can help or hinder the style you're aiming for in your home. So, first, let's go through some of the most common internal door types.
Oak Doors
Oak doors have a medium-light timber finish with warm honey tones. This makes them versatile enough for both traditional and modern homes. Oak is one of the most popular timber choices for internal doors and other internal furnishings making it easy to pair with the rooms in your home.
Pine Doors
A slightly lighter timber than oak, pine is a great alternative for those looking for an elegant wooden feel without the price tag. Yellow and cream tones are more prevalent in pine doors so they are slightly less versatile.
White Primed Doors
White doors can offer sleek modernity or a tranquil rustic finish depending on the style and finish. Perfect for modern homes or coastal properties, white doors breathe a sense of fresh air into the home and are great for brightening up spaces and giving the illusion of space.
Hemlock Doors
Hemlock doors are as light as pine offering the same light style with different tones from Pine's yellows and creams. A colder-toned timber Hemlock features grey undertones and can be more suited to modern properties while Pine gives off a more classic feel.
Barn Doors
Barn doors are a staple for rustic properties and have seen a resurgence in popularity as people opt to preserve the original features in properties and encourage character in their homes. Barn doors can either feature a single solid door or a two-piece stable door that allows for ventilation from the top without opening the full door. Barn doors are typically made of more robust timbers and are great for kitchens and other shared living spaces.
Shaker Doors
Shaker doors are one of the most common door types and are great thanks to their simplistic, minimalist design. They're suited to a wide range of interior styles and can be found in most timbers and colours.
Glazed Doors
Glazed doors offer a way to bring light into your home and let it flow through the space keeping the property light and airy even with doors closed. Frosted glazing options allow you to maintain privacy in spaces like bathrooms and bedrooms without compromising on natural light.

Things to Consider before your final choice:
With high-quality wooden doors, base tones can be altered to better suit your property's aesthetic. So, if you love the hardwearing qualities of one type of wood but aren't sure about the natural wood tone, most woods can be treated with paints, stains and lacquers to solve this.
Typically, Pines and Hemlocks are often painted making them available in a range of natural and colourful tones and shades. Whereas Oak's natural wood grain is often preserved either with a transparent lacquer to accentuate the grain or darkened using wood stains.
Make sure to shop around for the perfect combination of style and substance when choosing your doors.


Styling Oak Doors
Oak's traditional aesthetic makes it great for dressing up to create a statement feel within the property. Combined with glazed panels, delicate hardware and accessories like handles or door knobs, you can elevate oak's timeless style and finish. We recommend a more traditional style of accent or accessory such as an ornate lever latch handle to harness the traditional qualities of oak and bring this style to life.
Of course, Oak is the perfect wood for stains and varnishes as well if you feel like adding another level of sophistication to your property.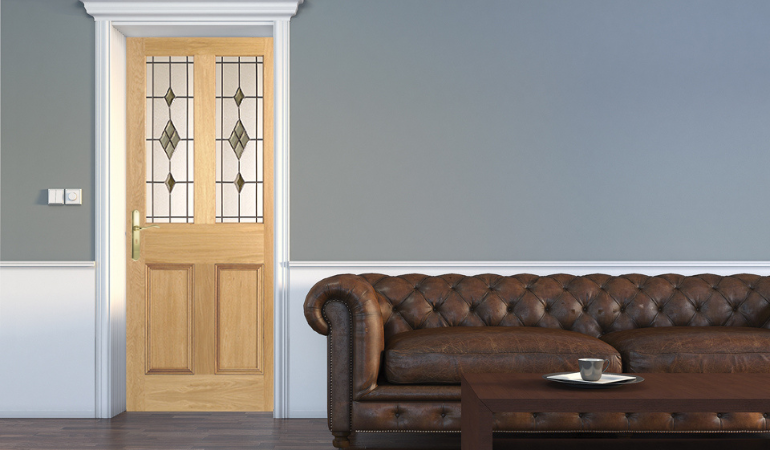 Styling Pine Doors
Pine's almost industrial aesthetic gives properties a cool edge, perfect for pairing with minimalist spaces. Complementing exposed brick, industrial beams and cool metallic tones, pine is a great choice for more modern properties. Combined with sleek matte black industrial fixtures, pine doors can create the perfect breath of modern fresh air without compromising on the quality of a wooden door.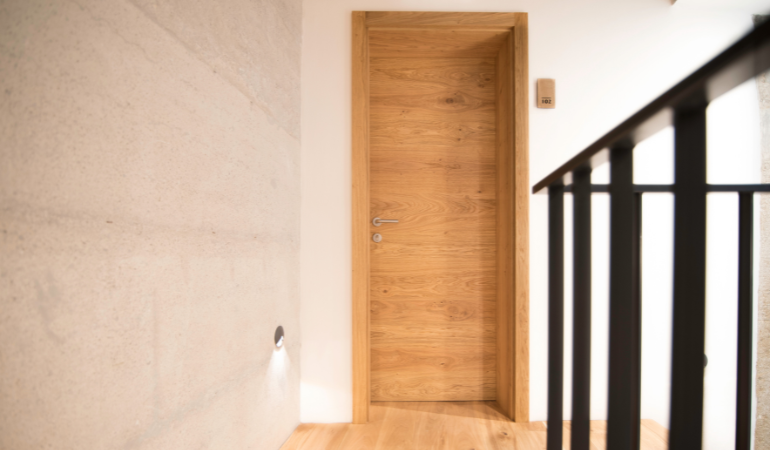 Styling White Doors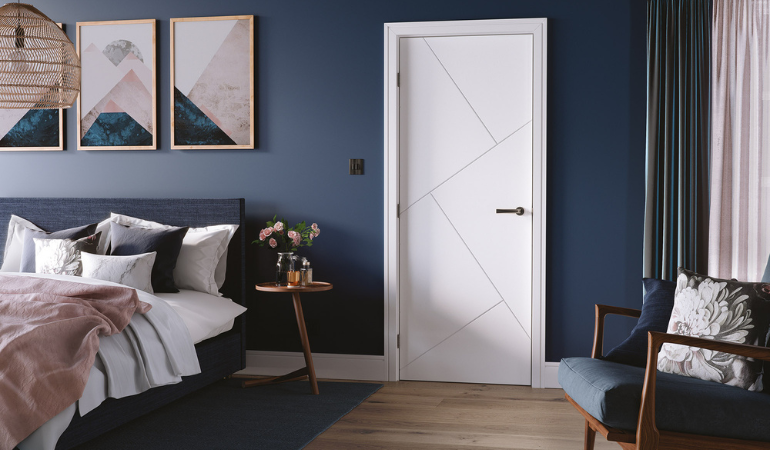 White doors are about as versatile as they come, depending on the style of the door itself. The important thing to remember about white doors is that they're best used against pastel or white interior. Whether you've got a modern, clean and polished home or a more eclectic home featuring pastels, wallpapers and patterns, white doors will pull both into a tranquil centre. Balancing busier spaces perfectly with a complimentary colour or simply tying into the fresh and simple style of a modern home.
As a colour which complements most other tones, white doors can be finished with an array of fixtures and ironmongery without compromising on style. For a more traditional look, we recommend gold ironmongery, handles and other finishing touches, with matte black or chrome accents to provide a sleek modern look.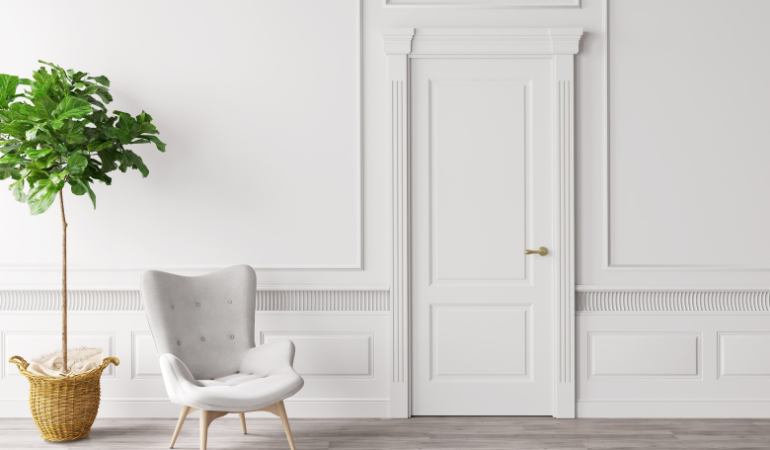 Styling Walnut doors
The darkest natural wood tone available, walnut's rich intense brown finish is perfect for contemporary homes. Bordering on the same industrial modernity as a black door, Walnut offers an alternative for those who prefer a natural wooden tone. Perfect against warm greys, whites and neutral palettes walnut complements a host of interior styles but is best suited to contemporary spaces.
Although a darker wood, walnut still possesses great versatility making it easy to pair accents, accessories and finishings such as handles and ironmongery. Depending on the style you'd like to create for your interior, we'd recommend grey or chrome accessories. Black accessories will also give a super sleek contemporary look for those wanting to make a statement in their space.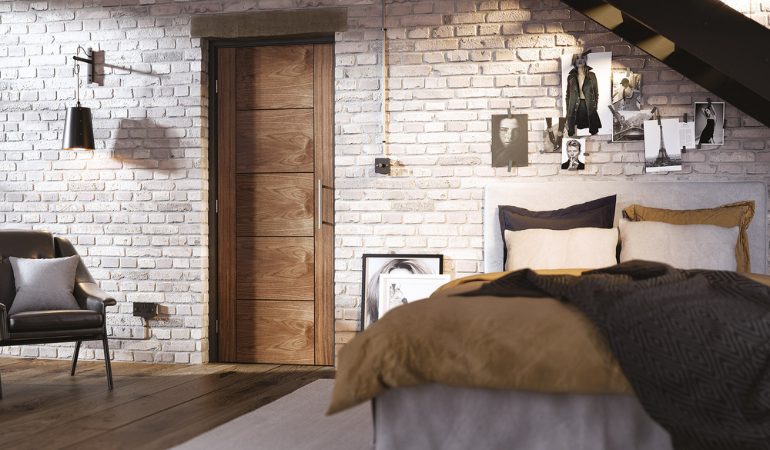 Styling Barn Doors
Boasting heavy thick wood panels completed with diagonal beams, barn doors, are not only perfect aesthetically but cleverly designed for strength and durability.
Due to their style, barn doors look best in rural country homes, cottages, barn conversions and other historic properties oozing with character. So, if you've got a more modern property we'd recommend something a bit more in keeping with this modern aesthetic.
Their wooden build means most barn doors can be painted to seamlessly match your interior. Or you can choose to simply embrace their homely wooden tones and elevate your home's natural charms. When it comes to accessorising, we'd recommend black iron hardware such as handles and accents. Our Fleur de Lys pull handle complements barn doors perfectly with a traditional Tudor feel perfect for the historic silhouette of a barn door.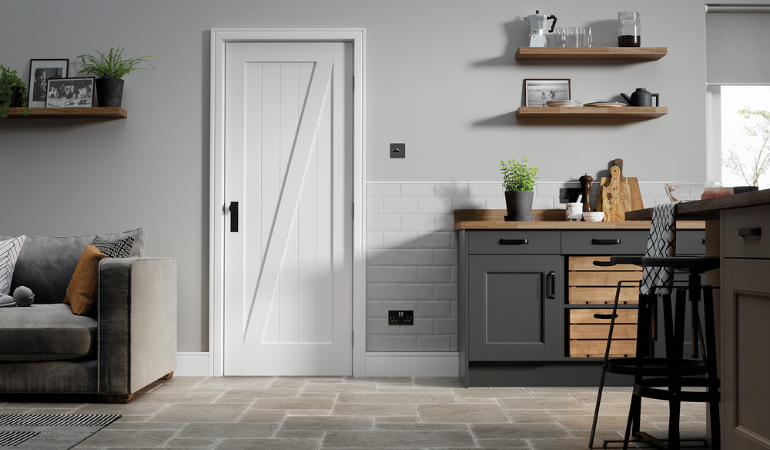 Styling Shaker Doors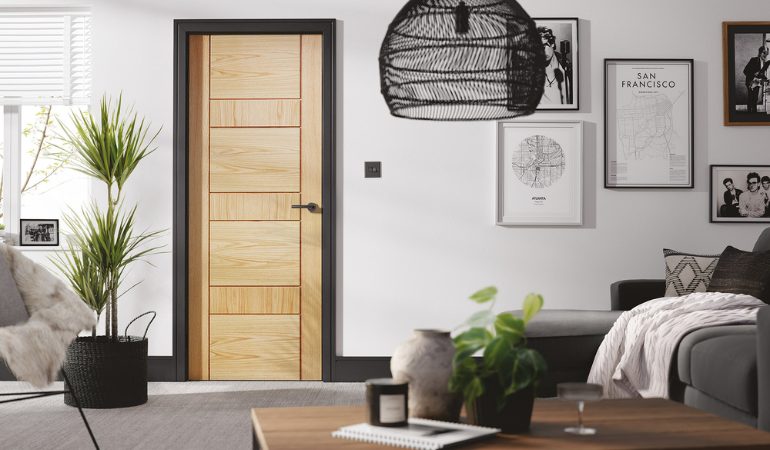 Shaker doors are great for versatility, achieving a minimalist look without being boring, perfect for properties that possess the same flare.
Thanks to their popularity, shaker doors are widely available in both natural wood tones, as well as pre-painted finishes in almost every colour imaginable. You're sure to find a tone that complements your interior if you opt for a shaker-style door.
However, their build makes them best suited to specific accents and accessories. Pull handles mirror the simplicity of shaker doors, flowing in the same direction as the most prominent lines and tying these together for the perfect finish. However, a more traditional approach is also available in the form of door knobs, a classic shape that adds contrast to the horizontal and vertical lines in a shaker door.
As far as colour and finish are concerned, these will vary depending on the colour of your door and other interior accents. However, we find that matte black and chrome pair with shakers for a contemporary, sleek feel and gold or brass lean into the traditional elements of a property.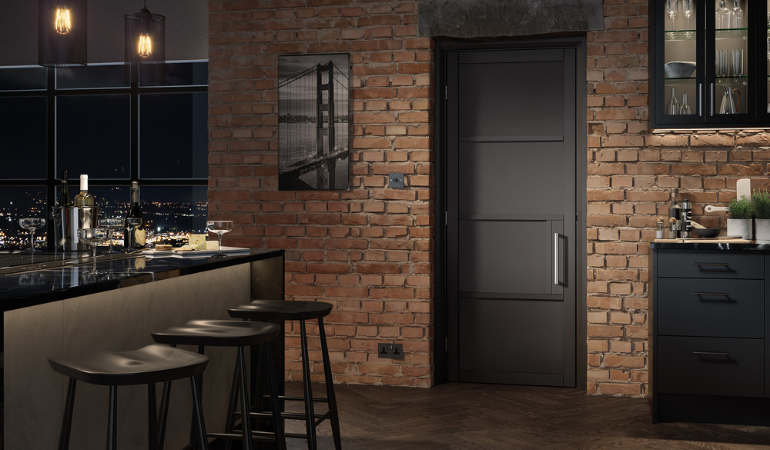 Next Steps
Once you've chosen your door or your chosen re-style, getting started styling your doors is simple. At Doordeals, alongside our internal doors, we house a great selection of wood stains and finishes, door handles and ironmongery packs complete with hinges, handles, and more.
We built our collection to make it easier than ever to bring your perfect doors to life, putting your own stamp on timeless designs and building your ideal doors exactly as you envisioned them.

Whether painting your doors for a refreshing burst of colour or tying your doors into your interiors with ironmongery and accents, simple styling techniques can refresh your doors instantly. If you're refreshing your internal doors or looking for a way to keep your new doors looking fresh, why not check out some of our door maintenance tips and tricks to help you get even more out of your door.

Don't forget our experts are available to any questions you might have too! We've answered plenty of door care questions in our Doorcare Leaflet. But if you've got any more, simply contact us for any information regarding your chosen doors or assistance in choosing the right doors for your property.