Whether quaint and quirky or a chic modern home, coloured doors can give your home's exterior a well-needed makeover, or simply help you put your stamp on a new home.
To help you refresh your external doors with ease, we've rounded up some helpful tips, advice and inspiration for choosing and styling a variety of front door colours, helping you elevate your space with confidence.
Coloured Doors: uPVC, composite or solid wood
Coloured doors offer plenty of variety in the shades, styles and materials available. This makes them great as a versatile option whether you're looking for something specific or a simple statement door.
Before you settle on a colour or shade, choosing your material can not only help make the next step easier but help ensure your new door is best suited to the environment, weather and external conditions.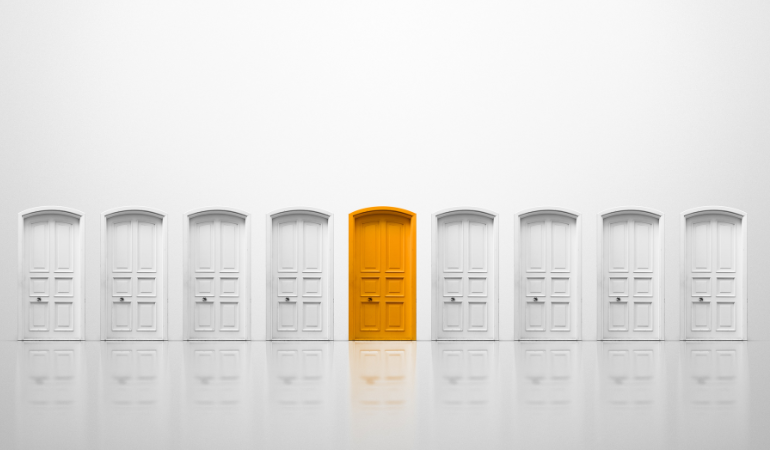 uPVC
uPVC doors are made entirely of plastic and due to their synthetic nature come in a variety of colours and shades, offering ranges which can often be more diverse than alternative materials. Typically, uPVC doors mimic the natural grain of wooden doors, which is perfect for those that want a wood effect, without the maintenance of real wood. However, like with all doors, you should consider their downsides too. uPVC doors are more likely to fade and wear when exposed to the elements, which may mean replacements and repairs are more frequent.
Composite
Composite doors are manufactured using several materials fused together, typically including plastics, woods and foams. These are usually thicker than uPVC doors due to manufacturing methods and as such are more resistant to fading, wear and other exposure to the elements. Their thickness also makes them incredibly energy efficient, reducing drafts, keeping heat in and making for a cosy home. As with uPVC doors, composite doors are available in a host of colours from subtle pastels to vibrant hues making them a great choice for long-lasting colour and performance.
Solid Wood
Solid wood doors are great for those wanting an authentic wood effect and can be painted and stained to achieve a variety of colours and styles. However, it's important to remember that wooden doors come with maintenance requirements to keep them looking and performing at their best. To ensure that your chosen colour stays vibrant, you'll have to weatherproof your door regularly to prevent damage to the paint/stain and the wood itself.

Picking a Door Colour
When it comes to picking a door, you might feel as though you have a challenge on your hands, thanks to the variety of front door colours on offer. The truth is, there is no 'best colour' for a front door, your perfect choice will come down to your own style and preference.
However, if you are having a tough time choosing a complimentary colour for your home, considering these factors might help:
The colour and brickwork of your property
The colour of your windows and other external doors
The material you have in mind for your front door
Longevity: How well will the colours age with your style and home improvements?
Coloured door ideas
Now for the fun part, a dose of inspiration to get your creative juices flowing and help you envision your space.
We've put together an inspiration bank teaming with front door colour ideas, how to style them and helpful tips. So without further ado let's take a look at how to style some of the most popular door colours.
How to Style a Black Front Door
A black front door makes a statement without having to commit to bright tones and finding complementary features and accents. This sleek back door combines black ironmongery too for an ultra-cool, modern entryway. Black doors make a real statement against neutral brickwork or rendering, creating a stunning modern contrast.
Finish off the entryway with matching planters, and spotlights or introduce some glazed panels to let some light into the hallways, which can often be overlooked when opting for a black door.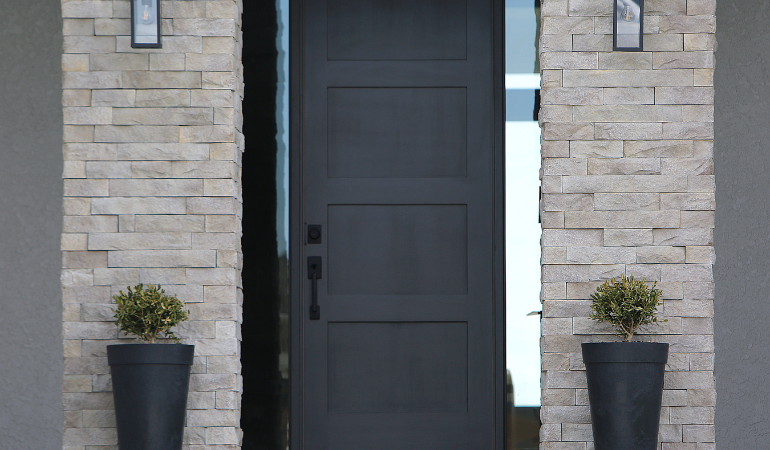 How to Style a Navy Front Door
Navy or deep purple colours age incredibly well thanks to their versatility, meaning that they adapt easily to changing homes and are great for onward selling if you move.
These tones are unique enough to make an impact, without being too bold or hard to pair with accents and door accessories. Their versatility means they beautifully complement a variety of ironmongery, but polished brass or gold make the biggest statement against a door of this colour.
Since you're being bolder with colours too, you can strip back the need for accessories, accents and other decorative elements, which is also great if you don't make much space around your entryway. A simple functional spotlight or basic shrubbery can elevate this space but the classic navy tones speak for themselves creating a classy, striking doorway.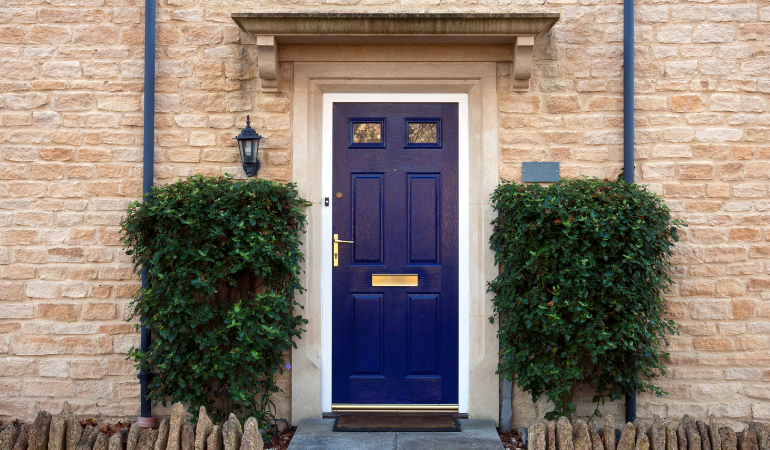 How to Style a Yellow Front Door
Perceived as a positive, optimistic colour, yellow front doors create a sense of homeliness that almost greets you as you walk through them. A striking colour on its own, it doesn't matter whether you have dark, light or neutral brickwork as yellow will always make a bold difference to the front of your house. Brass or black ironmongery looks best against a warm yellow tone, tying the colour together and finishing the door perfectly.
The benefit of a yellow front door is that with easy contrast you don't have to rely on accents to create impact - although pairing with matching shutters, or painted accents can help create a unique space. Yellow and vibrant greenery also work seamlessly, so if you've got the space why not add some bushes, hanging planters or potted plants?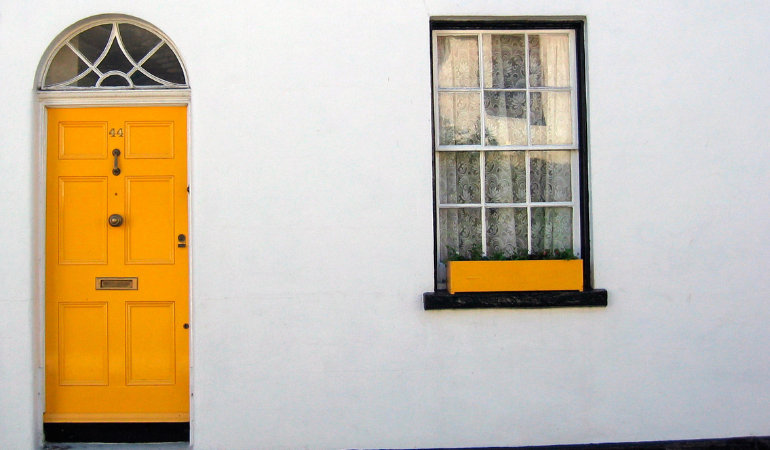 How to Style a Red Front Door
If you want to go bold, don't do it in half measures - why not opt for a daring red door?
Surprisingly, red is one of the most popular front door colours, despite its bold, striking tone. Suited to a multitude of brickworks, red looks stunning on both modern and period homes creating contrast on neutral or light brickwork and tying in nicely with dark or red bricks.
As a bold colour, you can create a controlled contrast with the addition of black or white ironmongery and accents. To recreate this look, we recommend statement accents such as house plaques, outdoor sconces and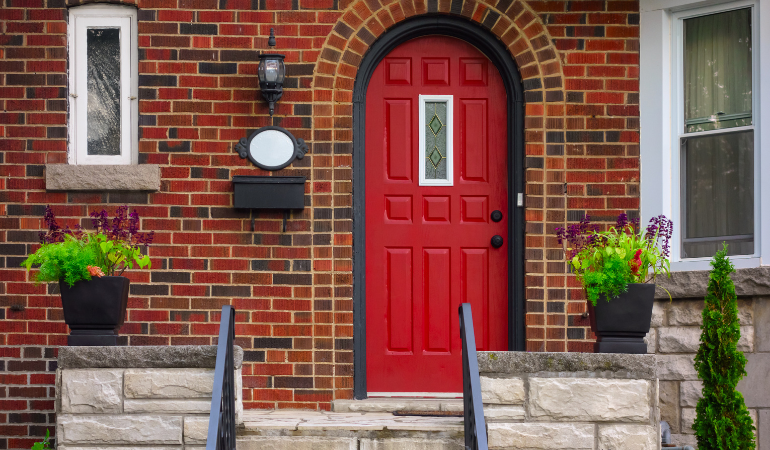 How to Style a Green Front Door
Whether subtle or bold, a green front door will refresh the front of your home with a serene calming presence. While pastel greens, mints and sages are all increasingly popular, vibrant greens are perfect for those wanting a more unique doorway.
Paired with traditionally styled black or white ironmongery this adds a subtle contrast to green doors, perfect for country houses, traditional cottages and other historic buildings and homes. Delicate greenery, shrubbery and floral plants in window box planters, pots or bushes will add to the natural appeal of a green door and complement the front of your home beautifully.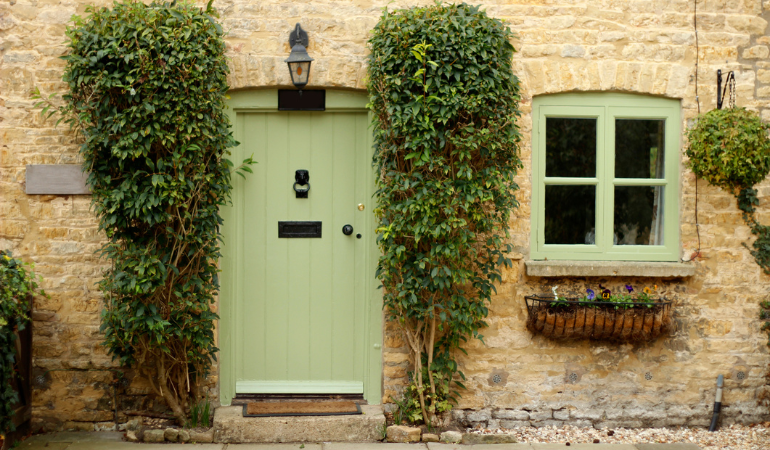 Bringing your vision to life
At Doordeals we understand that once you've had a vision, you want to see it brought to life. That's why we offer a diverse range of external doors, internal doors, door stains and ironmongery so that each of our customers can create their own unique vision.
Our commitment to ease, value and quality sees our collections as versatile in price as they are in style, helping you achieve your vision whatever your budget, with custom and non-standard door sizes available throughout our collections.