What Interior Doors Suit Your home?
Choosing doors for your home is not as easy as it may initially seem. There are many things you need to consider prior to making the investment. Time and money is not always on your side but there are simple steps you can take to really make the right decision for your home.
First step is to take into consideration the style and theme of your home. It is too easy to get caught up when shopping for doors, to just pick the one you like best without thinking about whether it would really suit the house or not. Doors are not something that you change every year like the colour paint on the walls. It is a decision that is worth while taking time to make.
Once you have considered the style of your home you can then go looking at doors. To make things a little easier here are some pointers on the style of doors which suit particular style of properties.
Modern:
In a modern or contemporary home, there are many routes you can take in terms of the style of door. Firstly when looking at wooden doors the best shades for a modern home are usually either very light wood such as Ash or Oak or a very dark wood such as a deep walnut. Alternatively, you could paint the door black, grey or very dark brown or a colour that ties into the theme of the house.
For a modern look, the door should be very sleek with a smooth finish and little detail. If there is glass in the door it looks best when it is either clear or frosted. Metal doors are popular in modern or contemporary homes; however be wary as they can look quite industrial if not integrated correctly into the look of the home.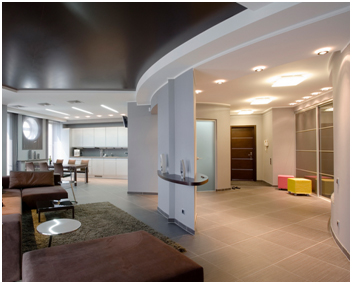 For door handles it is best to keep them smooth, sleek and straight. Simple with minimal detail is ideal. Silver tends to best suit the modern style doors, however don't be afraid to play around and see which best suits your home and if you can create an impact with your door handles.
Traditional:
In traditional homes, most standard interior doors would suit. These doors tend to be white or wood of a warm shade such as an antique pine or antique oak. However it is best to choose a timber which compliments the other shades of wood in the home (flooring or furniture). It does not have to be an exact match but on similar lines. If you are feeling adventurous you can make a statement with a contrast of wood such as dark wood doors against light wooden floors. The traditional wooden doors tend to have some detailing such as panelling on the doors in comparison to modern doors.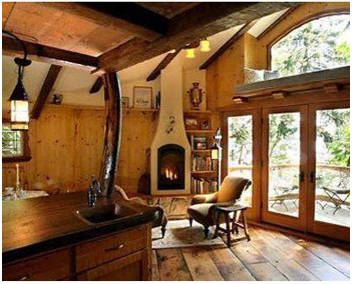 Traditional handles can vary and leave open a lot of options for adding some pretty detail. The benefit of having traditional doors is that you can put a modern or old fashioned twist on the door through the use of handles to really make the doors suit your home and your own personal style.
Cottage/Farmhouse:
If you live in a more country style home such as a cottage or farmhouse, it is a great way to keep the original style of the house through the doors. Use typical country style doors - large wooden plank doors with black iron furniture. If the home has been renovated and given a contemporary make over you can introduce original style doors in a modern way, for example putting in sliding traditional doors. The contrast of original and modern can be beautiful in country homes. Traditional country style doors can be made to look contemporary with sleeker metal and a cleaner finish on the wood.
Beach house:
In a beach house, keep the look of the house light and airy. Either use very light wood or white doors, the best option is to use glass panelled doors. This allows light to flow through the home keeping the style of the beach house running throughout. To brighten up a room even more, internal french doors let light pass between rooms, helping to create a more open-plan feeling, particularly in smaller or naturally darker homes.
In terms of door handles and furniture, keep it minimal and simple with a smooth finish. It is all about light and space in a beach house, so it is best that the handles blend into the door and create little impact on the look of the door.
If your house is of a particular era, it usually best to tie your doors in with that style. They are usually of a particular size and style and it is difficult to veer off without taking away from the look of the house.
The real fun part of these doors is that you can really make a statement with the door handles, there is a huge variety of ornate and intricate door handles for each of the different eras. You can play around with styles and shapes.
Finally, don't be afraid to put your own personal stamp on your home through the introduction of unique and interesting doors. It is your home and you can play around with your style and have some fun in the process.
Author Bio: Caroline Lynch - 23 year old final year marketing student and marketing intern. Irish blogger with a passion for interior design, fashion and fitness.