Internal Hemlock 2XGG Pairs
SKU:
Select from the options below
---
Key features
Important: The size listed is for the entire pair of doors, not per door leaf.
Material: Hemlock
Application: Internal
Fire Rating: Non-Fire Door
Glazing Type: Ready To Glaze
Finish Type: Ready to finish
About this door
These Internal Hemlock 2XGG Pairs would be an ideal solution for anyone who would like to open up a room and allow extra light to flow through from room to room. All doors have beading cut, mitred and pinned. They come as a 40mm thick and can be used internally.
These doors are manufactured from solid hemlock in the United Kingdom using traditional stub mortice & tenon, wedged and glued construction.
Please Note: These doors are constructed with an 80mm section and therefore will not accept a 3" latch, we recommend that 2.5" latches are used on these doors. These doors can also be manufactured with wider stiles (approx. 120mm) if required, please give us a call on 0114 2557800 or drop us an email at info@doordeals.co.uk for more information.
Handings: These doors are manufactured by default to the following handing -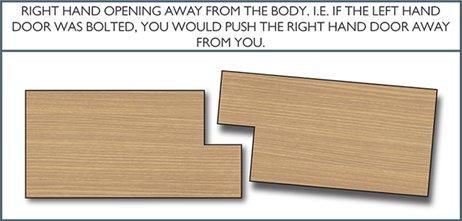 If requested, the handings on these pairs can be specified to the customer's preferences - it is very important to specify this at the point of order, otherwise, the doors will be supplied with the above handing.
Glazing
Supplied ready to glaze with a range of glass options available.
Things we thought you may need to know!
Please Note: Unless otherwise instructed, if purchasing glass, this may be supplied either temporarily glazed or packaged separately.
These doors are listed as the TOTAL size for the pair of doors rather than the size of each door leaf.
These doors may be despatched with extended stiles (horns) to ensure protection during transit & storage. They can easily be removed prior to installation.