Patio doors combine style with substance, connecting living areas and outdoor spaces seamlessly, helping make the most of your surroundings year-round. However, if you're finding it difficult to envision how to incorporate patio doors into your space, you're not alone. This can be tough, particularly if you're starting from scratch. .
In this blog we've rounded up some of the best patio door ideas and inspiration, catering to homes of all shapes and sizes to help you with some well-needed inspiration this summer.
If you're feeling unsure, take a look at our complete guide to patio doors to help you understand what to expect from each style from cost to security.
Modern Juliette balcony
This idea combines a traditional Juliette balcony with modern patio doors, creating a chic doorway that allows plenty of natural light and air into properties which might not have any outdoor space. This style of bifolding door provides versatility, allowing for partial opening from as little as a single door leaf to full opening helping ventilate the space on warm days.
With plenty of door silhouettes to choose from, this idea can be adapted to the style of your home and the size of your space.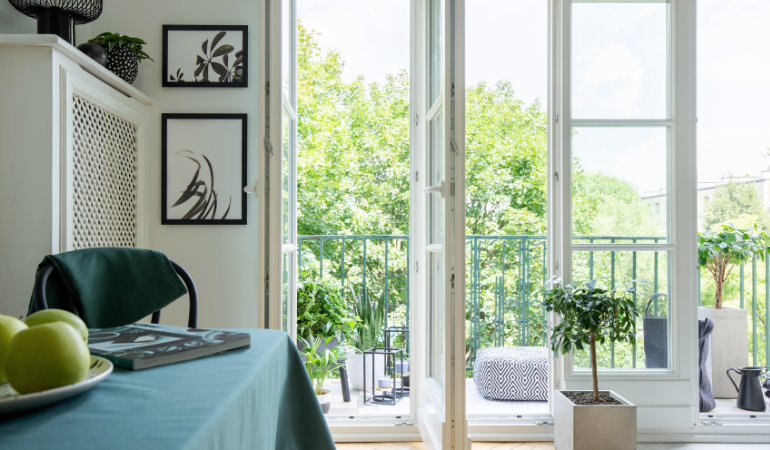 Supersized sliding doors
Tailored to more modern spaces, these sliding patio doors are paired with extra large windows, creating a pool of light in the property. Easy to install, sliding doors are often the more cost-effective option thanks to the simplicity of their design.
Providing access to a relaxed decked area, the inside and outside are connected beautifully with doors like these, for a simple ultra-modern feel.
Often providing a choice of colour, material and finish, these patio doors are also extremely versatile, adapting with the home as styles come and go.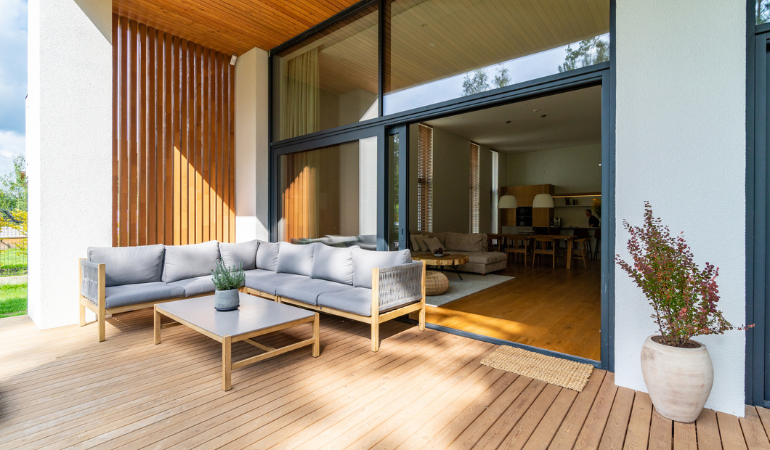 Panoramic patio doors
If you're looking for a bold, modern statement these slide and fold doors could be it.
Following the shape of your property, these doors provide panoramic views and access to outside spaces. Seamlessly connecting the living space and outside areas, these doors provide the illusion of spaciousness and are great for enjoying outside spaces with friends and family.
Typically bespoke in its design, this style can be adapted to the size, shape and aperture of your choice providing simple access to smaller spaces or opening up the rear or side of the home completely.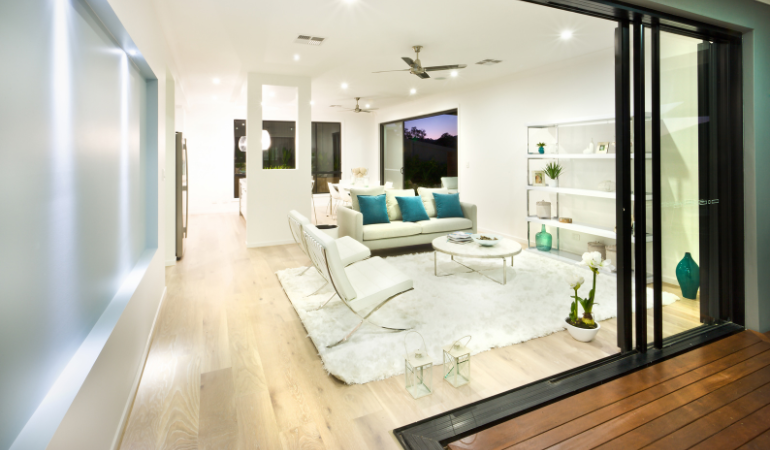 Classic courtyard
Whether you've got a garden, decking or a patio area, French doors provide a classic, traditional feel, creating a quaint, relaxing space. This classic design opens up the living and outdoor spaces just enough, providing easy, stylish access to both areas without the need for lots of space.
A simple light colour provides great opportunities to style this space however you want, bringing in flowers, simple furnishings and plant life to bring this area to life, without committing to a colour that will shape this space in the future.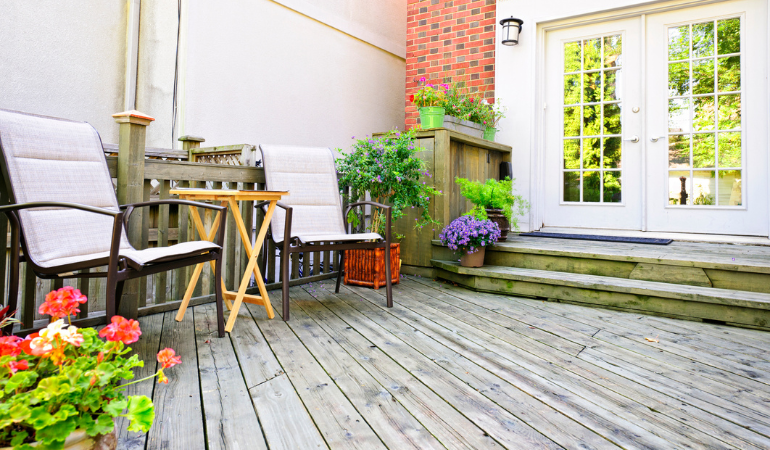 Connected Kitchen Patio
Upgrading your kitchen with a patio door not only provides great ventilation when cooking but opens the space up to create a fantastic entertaining area. If the space allows, sliding or folding doors to both sides of the kitchen allows you to create distinctly separate spaces in the garden, one for dining and one for relaxing.
Tailoring your patio doors with the interior and exterior style of your home ties the space together perfectly, creating a seamless blend between the two.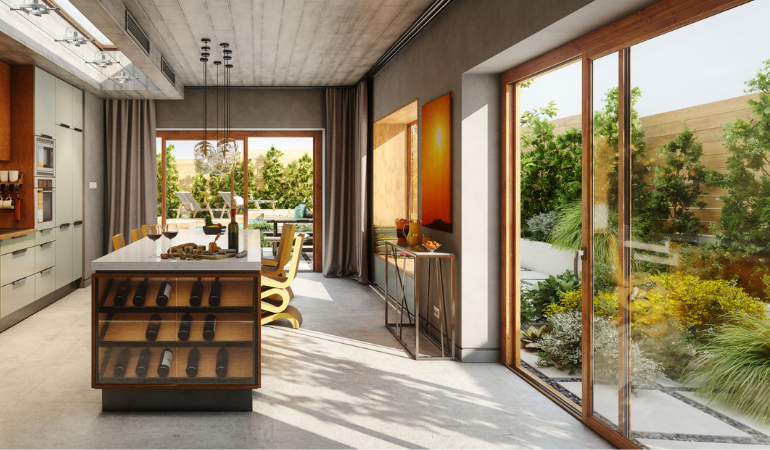 Practical terrace
If your property doesn't have a lot of outdoor space, maximise what you can with small french doors, opening inwards to the property. When french doors are in use, they can take up space in the area depending on which way they open. Opening these into the property, allows you to enjoy as much space as possible outside, maximising areas for furniture and practical items like patio heaters.
Sometimes considered old-fashioned, french doors are actually surprisingly versatile. Available in both modern and traditional styles, these doors help you mirror the look and feel of your property and are often a more cost-effective solution.
Perfect for balconies, small terraces and courtyards french doors like these let in natural light, cooling air and provide access to outside areas with no fuss.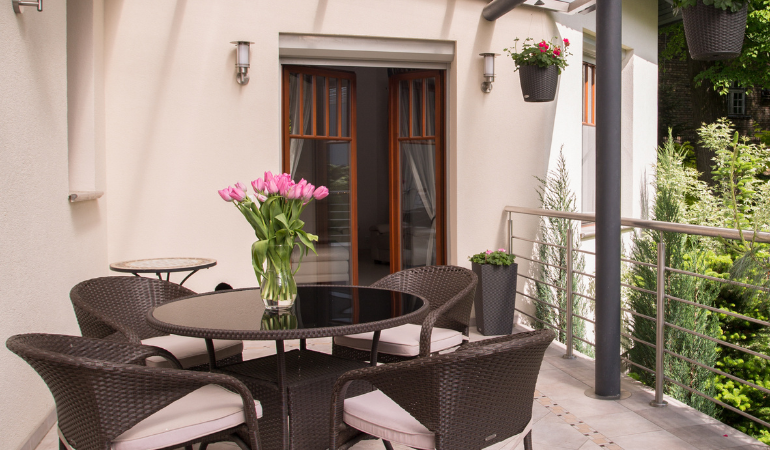 Versatile Veranda
If you're torn between a veranda or a conservatory, why not have both?
This ingenious idea combines a classic veranda build with slide and fold patio doors, creating a versatile structure which can be used in both winter and summer. The patio doors fold back around the perimeter, easily transforming this space from a conservatory to a veranda to enjoy warm summer days and evenings in the garden.
If you've got the budget, investing in clever patio doors like these can help you maximise the space year round, transforming your home into a flexible, versatile space.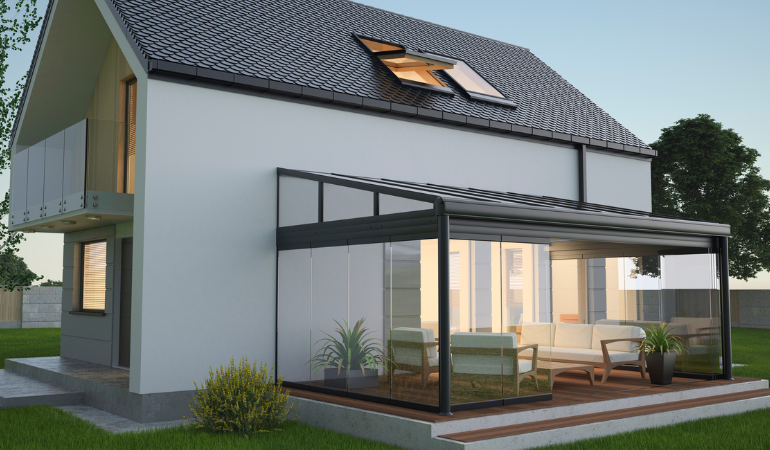 Choosing your patio doors
So there we have it, 7 brilliant ideas for patio doors. If you're feeling inspired by these ideas, you're in the right place to turn that inspiration into reality!
Doordeals is home to a huge selection of patio doors including external bifold doors and french doors, available in both standard and custom sizes. So, whatever your vision, our versatile collection has something for every home, no matter its size, style or structure.
We know that choosing the right patio door for your space can be tough when faced with overwhelming options, colours and styles. For a quick look comparison between bifold patio doors and french doors, read our helpful comparison guide to help discover which style will meet the needs of your space more.
Our expert team is on hand to answer any questions you might have, so feel free to contact us for more information.