Patio doors, whether bifold or french doors help create a seamless blend of living and garden space that's perfect for the British summertime and can be enjoyed with friends and family
But what styles should you consider and which should you avoid? As with most renovation work, personal preference will be a significant factor. If you're unsure where to start, why not read our complete guide to patio doors?
In this guide, we're going to break down the two most popular styles: French patio doors and bifold patio doors. Helping you understand the pros and cons of each and pick the right doors for your space.
What is the difference between french doors and bifold doors?
The key differences between external bifold doors and patio doors are the way they are structured and the way they open and close.
French doors are designed as pairs, featuring a left and a right door with glazed panels set inside wooden, uPVC or metal frames. These open inwards or outwards from the centre, depending on personal preference and design, locking in the middle at the handles.
Bifold doors consist of several individual glazed door 'leaves' hinged together in an accordion style. These glazed leaves are typically made from wood, aluminium or uPVC and their build allows them to fold back on themselves when open and close flat when not in use, locking at the edge where the leaf meets the frame.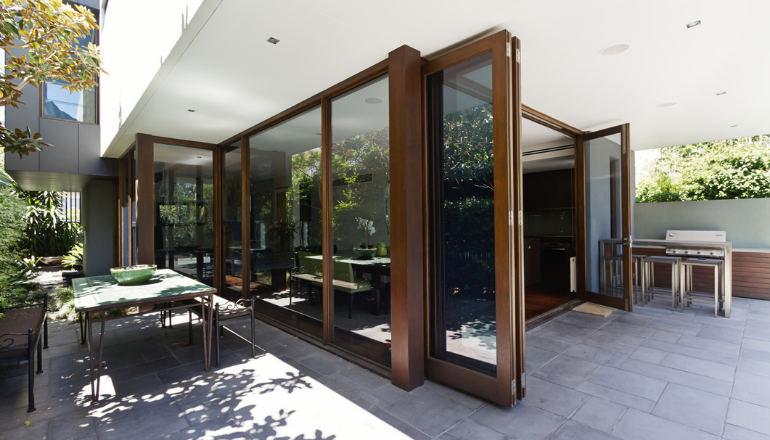 Which doors are easier to install?
Typically, french doors are easier to install. Due to their structure, they easily fit into a number of settings, giving them an advantage in versatility over bifold doors.
Installing bifold doors can be more complicated due to the requirements of the doors themselves, the structure and the suitability of the space.
Ultimately, a good installation technician will assess the possibilities for your space, advising and quoting on the best types of doors to install in your space.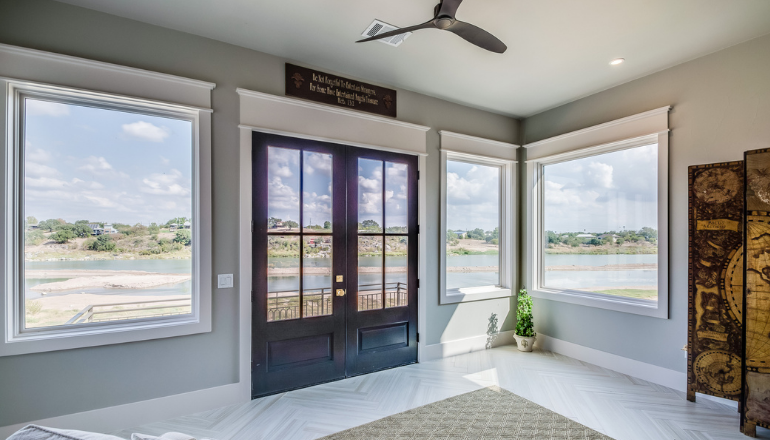 Which doors are more budget-friendly?
Usually, french doors are cheaper than bifold doors, as there are fewer technical elements forming the doors themselves and so prices can remain low. However, price doesn't reflect the quality or lack of. French doors are a great option for those wanting to open up their home and garden with a more traditional look and feel.
As an investment, bifold doors can prove more budget savvy long-term than french doors. As a more technically structured door, bifolds can withstand the elements slightly better than french doors. Their design can also really benefit a space as a more sleek, modern alternative. Bespoke and adaptable, bifolds also give you more freedom to weave your own style into your space.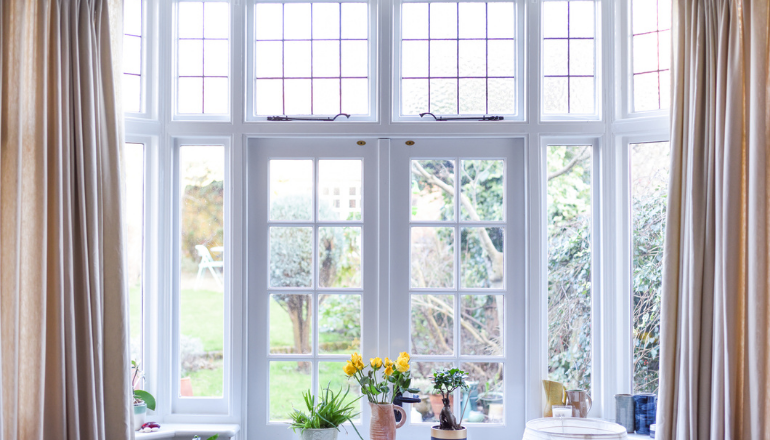 Which doors are more energy efficient?
If energy efficiency is high on your list of requirements, we'd recommend bifold patio doors.
Typically double or triple glazed, the large glass panels which make up the majority of these doors are perfect for thermal efficiency. These keep heat in during the winter and provide and circulate air around the space during warm summer months.
Which doors are more secure?
In short, french doors are generally a more secure type of patio door, thanks to the specifications of their design and how this affects operation and locking.
Like for like, a high-specification french door will be more secure than a high-specification bifold door. The central locking mechanism of a pair of french doors makes them more resistant to forced entry from outside.
However, this isn't to say that bifold doors aren't secure. A high-quality set of bifold doors with durable glazing and a quality frame are still a secure option for those wanting to refresh their space.
For added security, all patio doors can be fitted with safety accessories such as re-inforced locks, top locks and bottom locks, giving you extra peace of mind whatever your preference.
Which doors save the most space?
Bifold doors have more space-saving potential than french doors, so if space is limited we'd consider bifold doors in your home.
The structure of bifold doors means that when open, they fold back on themselves, which can both save or take up, depending on the layout of the doors, the space and the style. However, generally, these doors tend to open out into the corners of the rooms, which aren't often used as entertaining spaces.
French doors open from a fixed position, outwards or inwards eating into the space inside or outside the home. So when furnishing a patio or garden for functionality, you'll have to consider how this affects the space when the doors are in use.
Bifold vs French: The pros and cons
To look at the bigger picture and compare these styles side-by-side, we've rounded up the biggest benefits and disadvantages of bifold doors and french doors.
So, let's take a final look at how these styles weigh up against one another:
The Benefits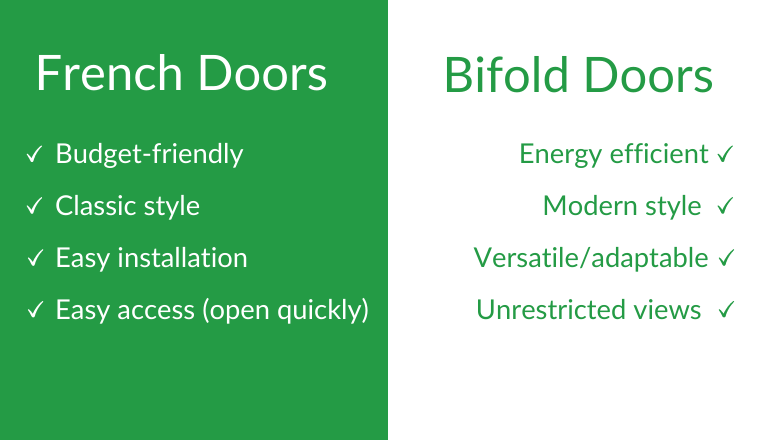 The Disadvantages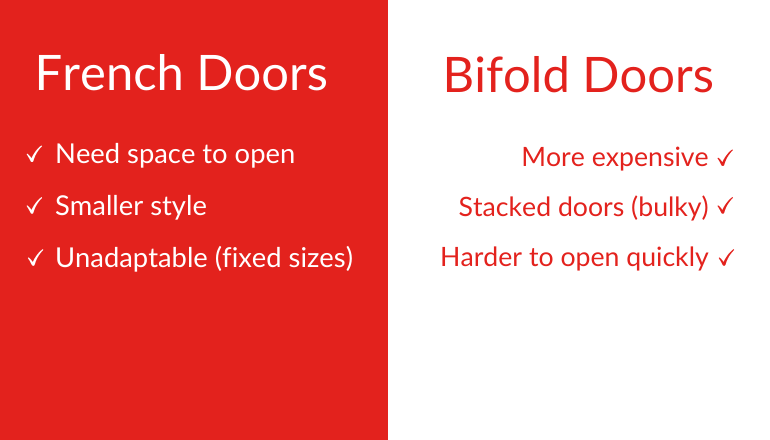 Quality doors you can trust
Whether you're refreshing your patio doors or completely renovating the space to make the most of your garden, picking the best doors for your space is a must.
At Doordeals we want you to make the best decisions for your home. Our experts are available to answer any questions on our live chat - simply ask and we can help with everything from measurements to product recommendations.

If you like the idea of french doors and want some more information, take a look at our French Doors Guide for styling inspiration, practical information and more. We also supply internal french and single bifold doors, to help create multifunctional living spaces, in style.