Space seems to be the one commodity none of us have enough of. Modern lifestyles, busy households and a surge in remote working mean many of us are pining for more spacious living spaces now more than ever.
While internal doors can't make your space bigger, there are clever ways to maximise the impact of your space whether big or small, all with the use of internal doors.
In this article, we're looking at creative interior door ideas for properties of all styles and sizes, helping you use your space intelligently and breathe some new life into your home.
Read on to find the space-saving doors for your home.
Consider Layout
This may seem like an obvious step but considering the layout of your home can help you identify opportunities to maximise the space within the layout and also maximise functionality too.
Consider things such as walkways, access routes, and electrical points like plugs, wi-fi and telephone ports. Utilising the right internal doors cleverly and efficiently will help minimise the disruption to these areas and help you achieve enhanced functionality while simultaneously working with the space in your home.
Open Plan vs Closed Plan
Open Plan Living
Open plan living injects a social aspect into living spaces, giving people opportunities to socialise in different areas of the house at once for example kitchen-diners or diner-living rooms.
However, with open plan spaces, it's common for homes to feel more cluttered as storage space can be more scarce in an open plan setting. You may also find it harder and possibly more expensive to heat open-plan spaces as heat will escape into areas not being used rather than being contained in the space being used by doors or walls.
Closed Plan Living
Closed plan living maintains a cosier feel in the property and proves an easier alternative in terms of heating a space. However, closed plan spaces tend to be designed for a fixed purpose which makes them less versatile or flexible.
For example, a closed plan dining or living space would only be used for this purpose, rather than a fluid space that can adapt for use. Closed plan spaces are also seen as less socially flexible as when entertaining and hosting you may be separated from your guests for long periods of time which can create a disconnect.
Using internal doors creatively and cleverly can help you achieve a balance between open plan and closed plan in the main living spaces, enabling your home to adapt for functionality as and when it's needed.
Studio Apartments
Living in an open-plan apartment you might feel as though you exist in every space at the same time, making it hard to unwind, relax and divide your day, particularly if you work remotely from your home.
This interior idea incorporates internal french doors, dividing the living, cooking and sleeping spaces giving you the flexibility to host guests while maintaining privacy in a smaller space. Bringing in a single wall paired with french doors means you can dress the space with curtains for enhanced privacy when entertaining guests but still achieve natural light in sleeping spaces, or keep sunlight out in the mornings.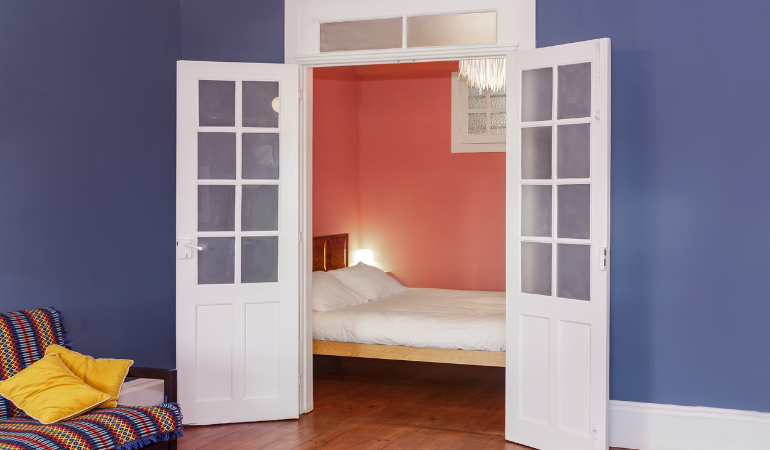 Single-storey Properties
Single-storey properties such as bungalows can often be a great choice for those who like the convenience of a single-storey but want more space than an apartment, including outdoor space. However, the layout of bungalows can often mean entertaining spaces are cut off from the rest of the property. Conversely, creating cosy, homely spaces can feel difficult if the layout utilises a lot of open-plan styling.
Internal double doors don't just have to be used in small spaces like the example above. Even in bigger properties, these are the perfect mid-way between open and closed spaces providing flexibility when entertaining but cosy, intimate personal spaces when relaxing at home.
Glazed door pairs also promote natural light around the space which in places like dining rooms and living rooms often comes through in abundance thanks to patio doors. Utilising glazed doors in your interior ensures this light still accesses the rest of the property during the day.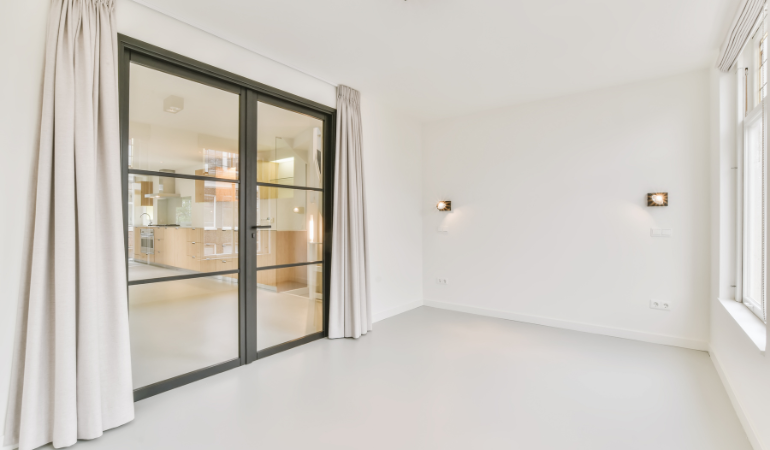 Narrow hallways
Narrow hallways are common in homes of all sizes, typically leading into spaces like bathrooms, bedrooms and other areas. If you've got a narrow hallway leading into a space often you'll need to hang a door in place for privacy and functionality. However, it can be difficult to maintain comfort and functionality with a narrow hallway to one side and limited space on the other.
Bi-fold doors are a great solution to this problem allowing people to utilise the space comfortably while also achieving the privacy required in bathrooms for example.
Another great use of bi-fold doors is in instances where bathrooms may be located at the bottom of other rooms such as kitchens. Bifold doors allow for both spaces to remain separate without encroaching on the storage or aesthetic spaces of either one, particularly in busy spaces such as kitchens.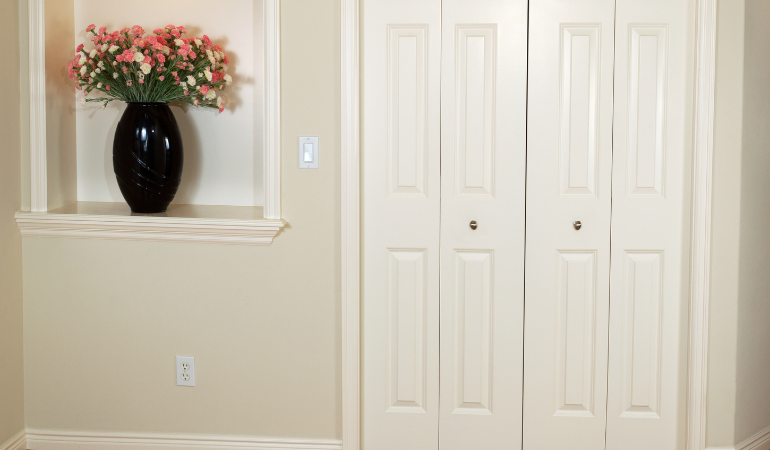 Kitchen and Pantry Spaces
If you're lucky enough to have a pantry in your home it's quite possible that the living space might be smaller to accommodate this dedicated storage space. If this is the case, or you have an open-plan kitchen diner, accessing a pantry and opening a door into the kitchen might not be the most functional option.
The barn door is a rustic staple for traditional kitchens that slides back and sits flush to the wall, allowing you to maximise the space in both the kitchen and pantry. Another benefit of this style of door is the ease of opening. If you're entering or leaving the space carrying multiple items a sliding door is much easier to open or close than a traditionally hung door.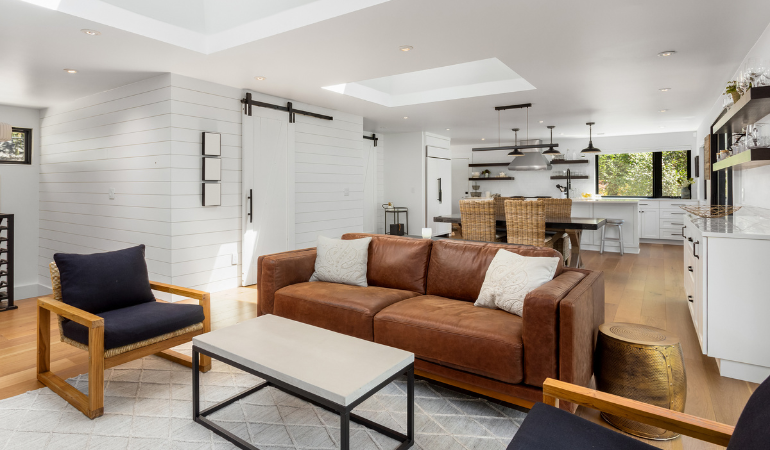 Property Extensions
An extension to your home solves the space issue, providing a boost to the available living spaces. However, sometimes these can impact the flow of the property and its original layout. Extensions typically involve removing one external wall and extending the property to the back or the side. Lengthening or widening the space like this often results in an open-plan layout which can be more difficult to heat and style.
Introducing sliding or bi-folding divider doors at the site of previous walls gives you the freedom and flexibility to have both open and closed-plan layouts. The flexibility of this space means that during warmer summer months your space can achieve improved airflow and light while creating separate, cosier spaces during winter months. Internal bifold or sliding doors are the best choice for use in spaces like these as they both lay flat against the wall meaning that whether summer or winter the layout of your furniture is undisturbed and the space in each 'room' is preserved whether opened or closed.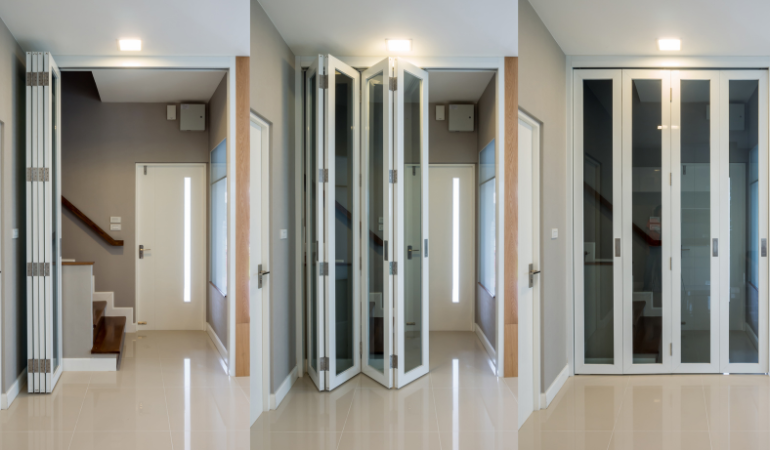 Kitchen and Living Rooms
More and more houses are being built to open plan specifications, meaning often our kitchens and living rooms are connected. While this suits a lot of families, others might prefer the flexibility to chop and change this layout as and when it's needed, particularly if there's no separate dining space.
When separating living rooms and kitchens, temporary solutions such as L- shaped sofas, room dividers and other furniture items can work however for a solution with more impact, internal double doors, sliding doors or even bi-fold doors are all viable options.
Each comes with its own drawbacks and benefits which will vary from property to property. However, introducing any of these doors provides flexible living space as well as flexible dining space, entertaining space and even cooking space if needed, all of which can be scaled right back to recreate a cosy living room when finished.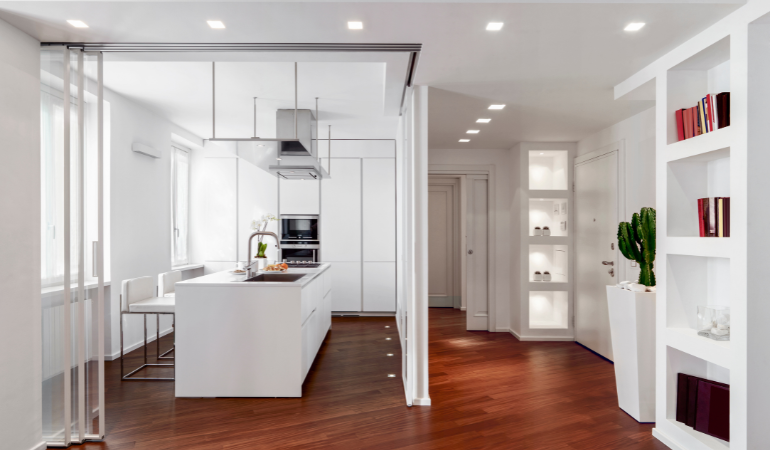 Combining Inside and Outside
While not 'technically' an interior space, combining your external space with cleverly curated external doors can help extend the space you have seasonally. Sliding or bi-fold doors leading from a kitchen or living space out into the outdoor space are great for creating a seamless entertaining space that flows naturally and flawlessly.
The size of doors like bi-fold doors or sliding doors typically creates a panoramic effect when opened which enables you to seamlessly merge inside spaces with the outside space. Paired with continuing aesthetic design choices these two spaces will appear an extension of one another, creating a space that feels open plan without feeling disconnected from the main property.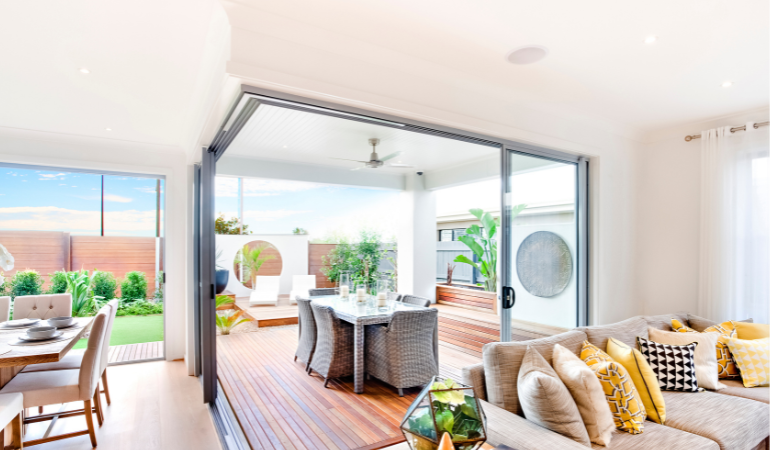 Next Steps
If you're still deciding which internal doors are the best for your space, why not read our buyer's guide to internal doors? This handy guide breaks down the different door styles and their materials to help you choose a door that will look and perform exactly how you want.
At Doordeals we recognise that different spaces need different solutions, that's why our range of internal doors features everything from basic, budget-friendly doors to custom-sized doors and a range of non-standard door options.
If you've got a vision for your space that you want to bring to life, get in touch with a member of our team. We're here to assist you in finding the right solutions for your property and can help with sizing requirements, product information, recommendations and much more.
For more inspiration on how clever doors can transform your inside and outside space why not check out 7 patio door ideas to update your home and garden?