Each year as the seasons change, we face the unwelcome return of colder weather. Heating our homes cheaply and effectively has become even more of a priority with soaring heating bills affecting many households across Europe.
One of the most efficient ways to heat-proof your home is to invest in clever, energy-efficient doors that keep cold draughts and dropping temperatures out while locking the heat in. This guide will fill you in on the most practical, energy efficient and stylish doors for inside and outside your home.
What type of door is most energy efficient
When purchasing a new door or a new set of external doors, it's important to consider the materials as this may severely affect their energy rating and result in you losing out on the benefits in cooler months.
uPVC Doors
Amongst the most energy-efficient doors are vinyl doors or Vinyl or uPVC doors as they're most commonly known are a good option. as they're most commonly known. The way vinyl doors are constructed means they've got great thermal insulation and are perfect for keeping hot air inside a property while keeping cold draughts at bay.
Wooden Doors
Solid wooden doors provide great heat and noise insulation for properties whether used externally or internally. Their aesthetic appeal also makes them slightly more popular than alternatives thanks to the look and feel of natural wood.
Harwood doors are the most energy-efficient wooden doors, but softwood doors can be enhanced with additional elements. Draught excluders around the top, bottom and post box areas of doors can help keep unwanted draughts out and for glazed doors, curtains can help keep the home cosy.
Composite Doors
Composite doors are also a good option incredibly energy efficient due to their structure. Manufactured using a combination of materials glued together in layers, composite doors are typically quite mimick the thickness of a solid timber door and as such provide a good amount of heat insulation to properties.
So, you've heard about the most practical doors but what about practicality and style? Don't compromise on style, Ccombine style with substance with these inspirational examples!
External doors
One of the best ways to heatproof your home is to invest in energy-efficient front doors, which stop the cold air in its tracks at the point this might enter the home. Thanks to modern design, manufacturing and carpentry more and more styles are becoming available that not only insulate your property excellently but let you inject some of your personal style into the space, without compromise.
Modern panelled door
Our Anthracite Oslo door is the perfect example of engineered wood and its thermal efficiency. This style is perfect for properties with a sleek and modern style and its striking grey colour strays away from traditional timber tones without being too bold. A U Value of 1.5 W/m2K makes this door great for watching energy bills this winter.

Contemporary glazed door
As a uPVC door, you can expect a good level of energy efficiency from doors similar to this style, regardless of the glazing. Styles like this combine classic glazing with contemporary design and pattern creating a unique front door that performs as brilliantly as it looks.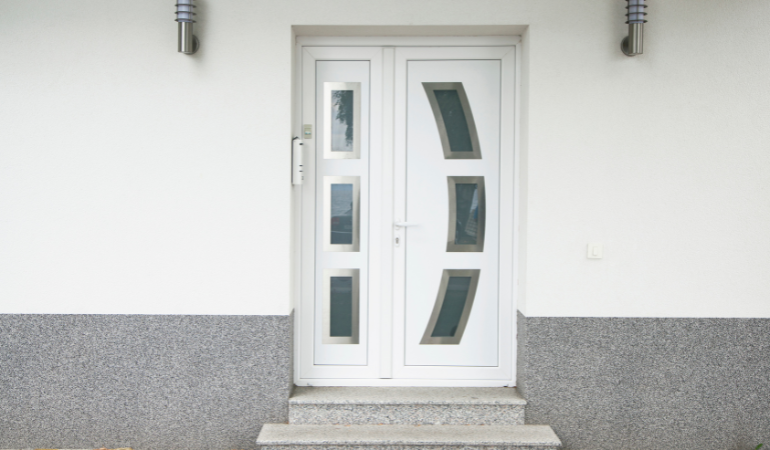 Glazed oak style door
Our Oak Stockholm is built using an advanced cross-laminated hardwood foam core for enhanced durability and a heat-efficient core. A simple style, this door features a single panel of privacy glazing finished with a modern 1400mm stainless steel bar handle. It's impressive 1.5 W/m2K U Value speaks volumes about its heat insulation, so if a traditional wooden feel is for you, check out our Oak Stockholm.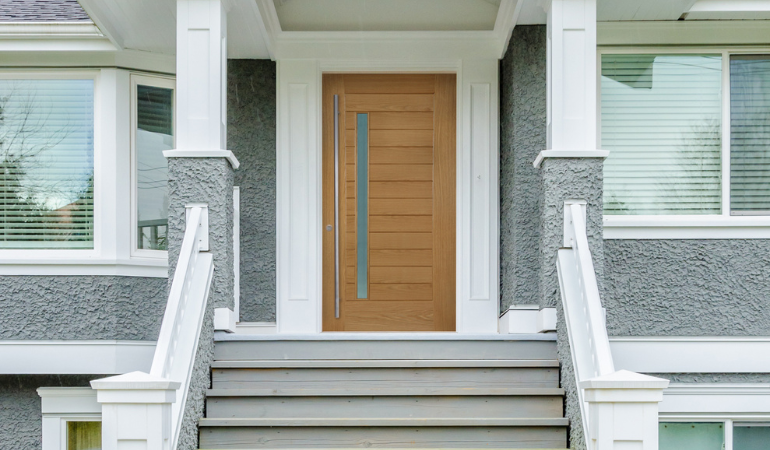 Pastel wood effect door
Coloured exterior doors are becoming more and more popular and uPVC doors like this style are perfect for injecting some colour into your property. If you're not ready to commit to a bright tone, pastel colours are a great midway between a neutral white or grey and a splash of colour. As a uPVC door, you know that energy efficiency will rank as highly as style and appearance, keeping your home looking stylish from the outside and feeling cosy on the inside.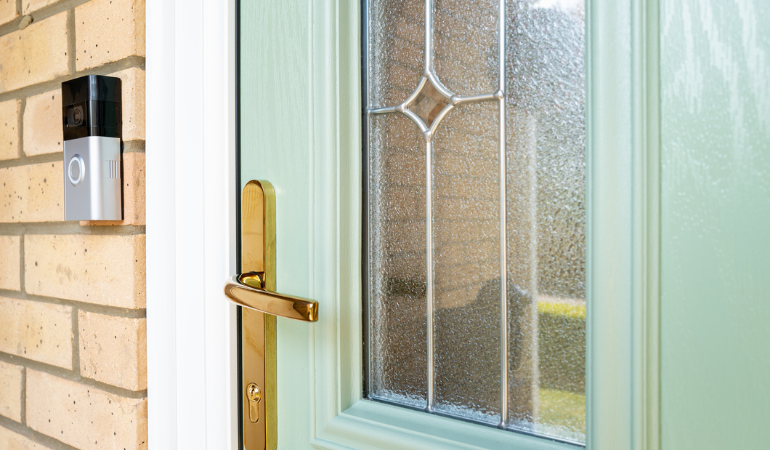 Colourful wood effect door
If bold colour is more your speed, uPVC doors are available in a host of bright colours such as this deep blue. If you can't find the colour you want the good thing about these doors are they can be painted too, making them totally versatile for a wide range of styles. Panels offer some dimension to the door and the wood grain effect gives it a wooden feel while harnessing the heat insulation of uPVC.
For some inspiration on colour combinations and styling your coloured doors read our tips and advice on how to style coloured doors.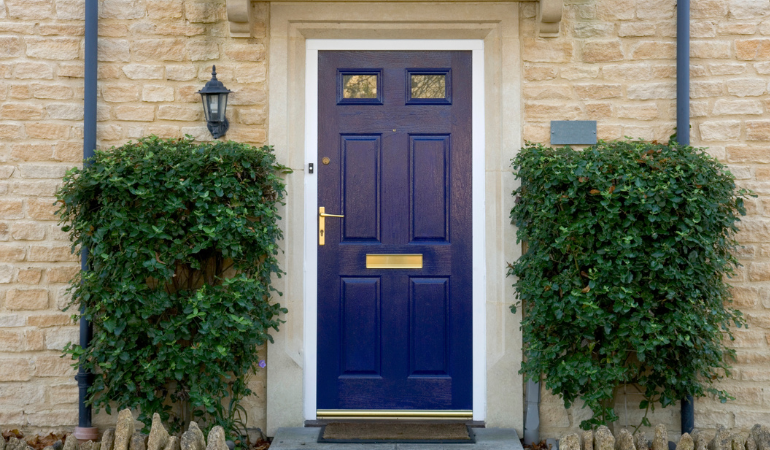 Hardwood Stained Glass Effect Door
A perfect addition to a more traditional home these hardwood doors tick boxes in terms of both performance and style. A traditional panelled silhouette is finished with elegant stained glass triple glazing for a style that locks in heat while letting light flow through your entryway. Varnishing and staining are both hardwood-friendly methods that can help you achieve the finish you want while benefitting from the quality, performance and durability of solid wood.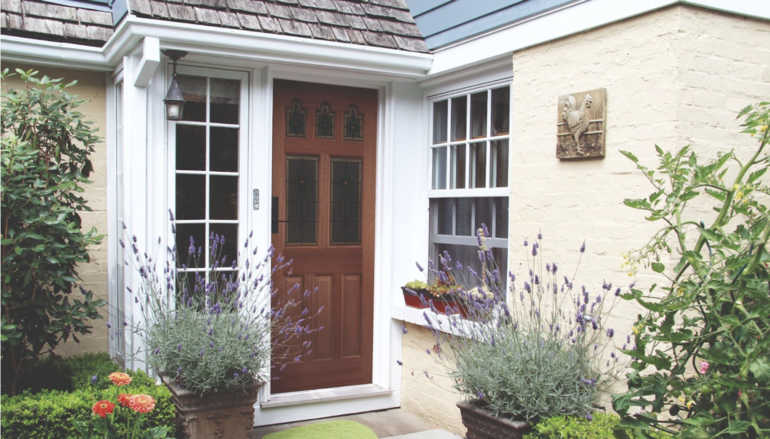 Pictured here is our Hardwood Ealing Rose
Internal doors
Internal doors insulate your homes just as much as external doors, allowing areas of the home to be shut off which helps massively when trying to heat a space. Energy-efficient, insulating doors can drastically reduce the amount of heat which escapes your rooms, ensuring the rooms in use get warm and stay cosy, saving you from having to heat the entire home and in turn saving money when it comes to your energy bills.
Contemporary grooved oak door
This pre-finished Oak Melbourne from our collection of internal doors is a modern and unique door, combining the traditional timber look with a modern design. As a solid wood door, its heat insulation is great, locking heat into the rooms and creating a cosy feel without compromising a unique, modern feel to the home.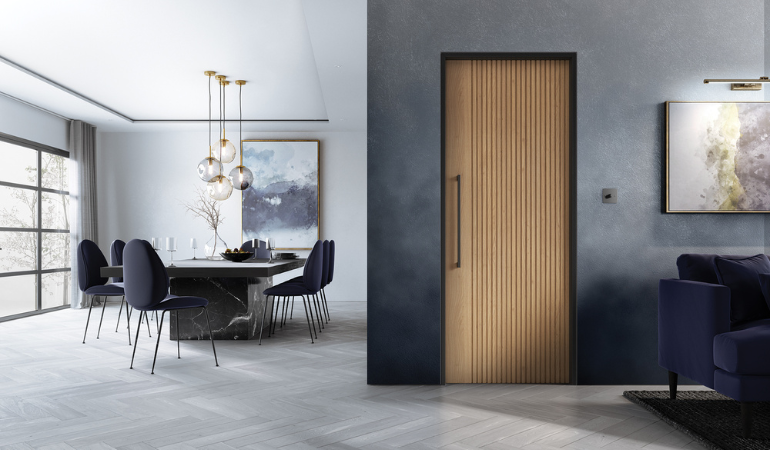 Industrial black-panelled door
If your home has an ultra-modern and industrial feel to it, it doesn't mean it has to be airy and cool. Our Black Camden door provides brilliant heat insulation keeping rooms cosy and warm while giving the space a cool modern feel. Paired with chrome or black hardware this door maintains its sleek style and creates the perfect addition to chic and stylish homes.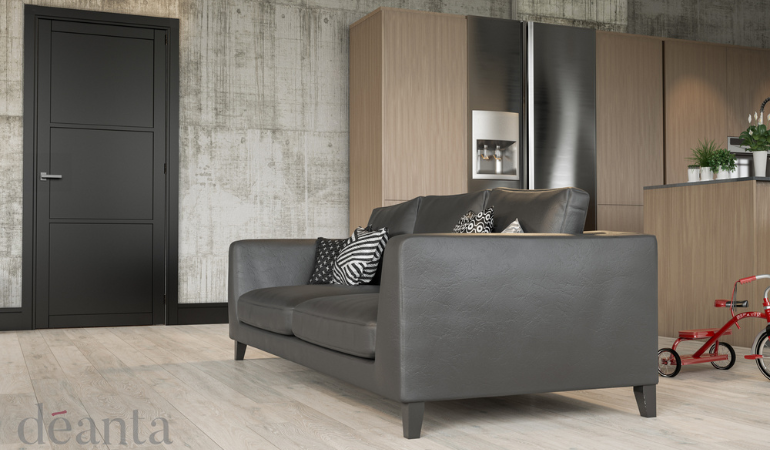 White primed traditional door
This white primed contemporary 4-panel door boasts a solid core, offering excellent heat insulation thanks to its construction. Engineered to be more resistant to the effects of heat and cold, allowing the door to perform better year-round. The traditional panelled design is given a subtle contemporary make-over with a white coat which helps it complement both traditional and modern homes.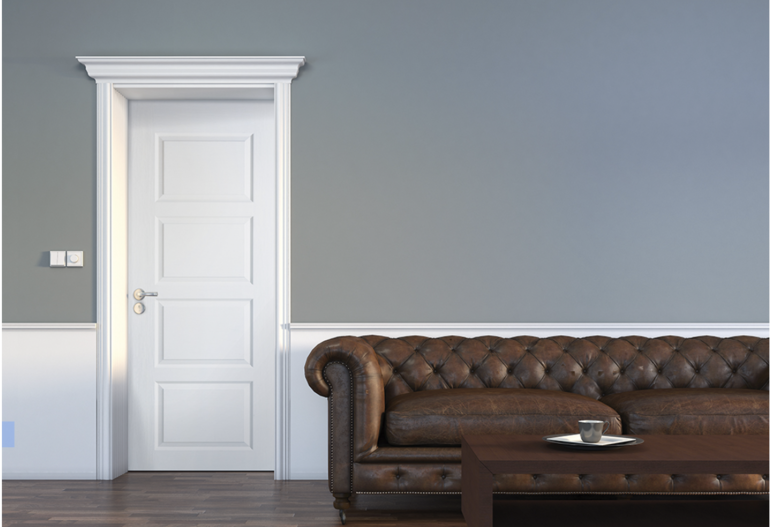 Oak 1930s door
1930s-style panelled doors are as traditional as they come, and in this neutral oak shade, they are perfect for 'homely' homes that maintain a more traditional look. As a solid wood oak door, it provides a good level of heat insulation and can be enhanced further with elements such as draught excluders and seals.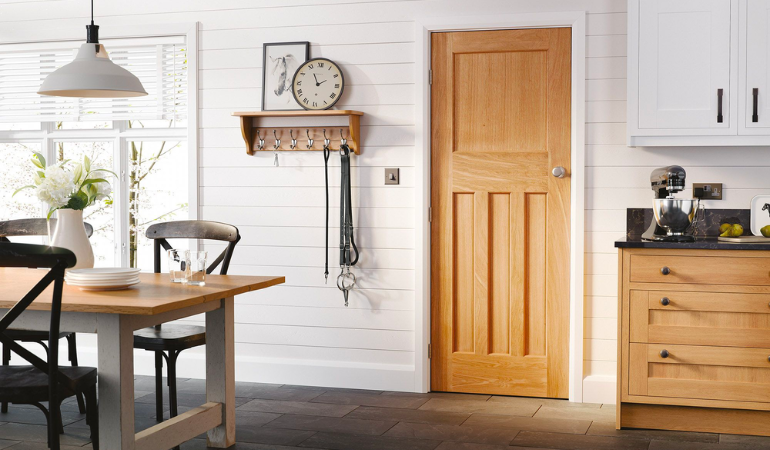 Pictured here is our 1930s Oak 4 Panel internal door
Stylish fire doors
Fire doors are engineered to provide extra safety in the event of a fire, preventing the fire from spreading for up to 60 minutes. However, due to their structure and build they are also excellent for heat retention and keeping spaces warm during the winter months. Available in an array of styles, shades and finishes they are a versatile solution for any home giving you extra safety as well as helping reduce your energy bills.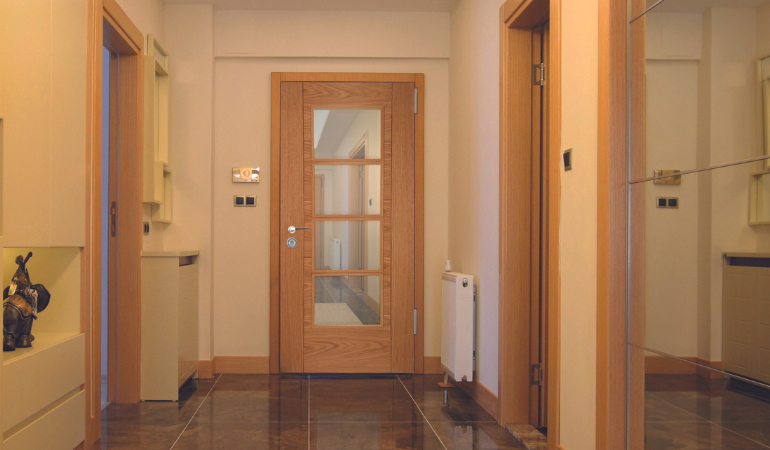 Pictured here is our Oak SS 4 Light Iseo Glazed FD30 Fire Door
Next steps
At Doordeals we have spent decades creating a collection of high-quality doors that are not only stylish and budget friendly but also practical, serving a purpose in your homes and creating lasting value.
If you're looking to refresh your doors and want to make an investment that helps you save long-term, get in touch to discuss the best options for energy efficiency, heat retention and of course, style.
If you're worried about your doors this winter, read our guide to maintaining doors for helpful tips on how to get more from your doors, make them more energy efficient and keep them protected against the elements.