Fire doors are a safety staple seen everywhere from office buildings to schools, hospitals and hotels. But did you know, fire doors are also advisable for use in your home.
This blog covers everything you need to know about home fire doors, from how they work to fitting and styling. Answering frequently asked questions, we aim to empower you with the knowledge to pick the best fire doors for your property, enhancing the safety of your home in style.
What are Fire Doors?
In short, fire doors are doors that have been engineered to withstand heat, smoke and flames, extending the window for people to safely exit a property in the event of a fire. They are built with a specialist fire-resistance that must be certified and guaranteed by rigorous testing. This ensures that each door meets the safety requirements necessary to prevent the spread of fire.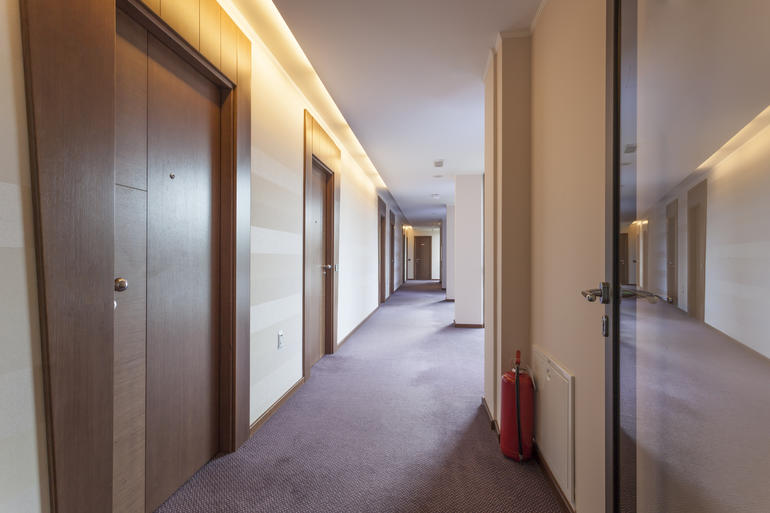 How do fire doors work?
The purpose of a fire door is to separate areas of a building into smaller, fire-proofed sections, slowing and preventing the spread of fire throughout the rest of the property. Made up of fire-resistant materials, the doors themselves withstand the flames while the intumescent strips surrounding the door expand on contact with heat, providing a protective seal between the door and the frame.
Used throughout a property they slow the spread from the source of the fire, allowing people to evacuate the building through clear routes. Compared against regular doors or open plan properties, fire doors contain the fire for up to 60 minutes giving fire alarms time to activate, and you and your family time to exit the property.
They also limit the damage caused by fire, giving time for firefighters to arrive and combat the blaze, containing this in one space and limiting the damage to the rest of the property as the fire spreads.
What are fire doors made of?
Fire doors usually feature a solid core, a type of manufacturing process that uses solid wood for the majority of the door's structure. In some cases, these doors are then reinforced with materials such as aluminium, steel and gypsum to enhance their resistance to heat and flames.
Some fire doors also feature glass panels for visibility or aesthetic. When shopping for fire doors, it's important to check that the door is fitted with fire-resistant glass and that all the materials have been thoroughly tested to achieve certification.
What are the different types of fire doors?
There are two types of fire door, FD30 and FD60 certified doors. FD30 doors can prevent the spread of fire for up to 30 minutes while FD60 can stop a fire from spreading for up to an hour. In a house, both doors will provide ample protection for a successful and safe evacuation. However, if you own an apartment or other high-rise property with multiple occupants an FD60 might be more beneficial for preventing the spread throughout the rest of the apartment and those surrounding it.
When are fire doors required?
Fire doors are legally required in all non-domestic properties such as offices, business premises and other commercial buildings. Multiple occupancy houses such as student rentals also require fire doors throughout the property.
However, in your home, it's up to you for the most part, where you do or don't place fire doors.
The exceptions to this rule are new builds of three or more floors and any home that has an external garage connected to the property. In these cases, developers will need to include a fire door in every habitable room in the house and fire doors must be placed in the entry between the property and the garage.
Even though not legally required, we strongly recommend that homes have at least one fire door in areas such as the kitchen or downstairs landings if possible. This will delay a fire from spreading from the kitchen itself or spreading between floors of the house.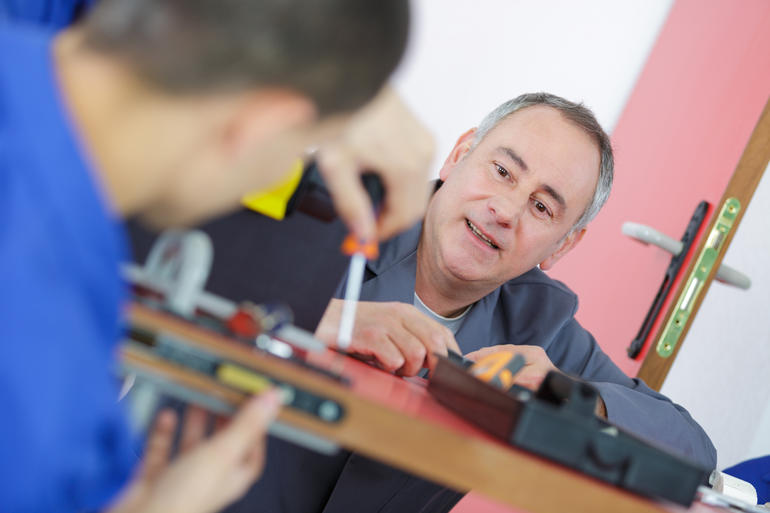 Where can you fit fire doors?
Fire doors can be fitted both internally and externally, each serving a different purpose and benefitting the safety of the home in different ways.
Internal Fire Doors
Internal fire doors can be fitted throughout the home for maximum protection, or in crucial areas to tactically prevent the spread of smoke and fire. Doors leading from the property into the garage must be fire doors for safety reasons, protecting the entire property should a fire erupt in the garage.
Other areas to consider installing fire doors are kitchens, downstairs landings/hallways and utility rooms. Placing single fire doors in these areas prevents electrical fires from spreading from the kitchen or utility rooms and delays fires from spreading across floors, protecting the occupants upstairs which is particularly important at night.
External Fire Doors
External fire doors are used to fortify the property's exits, giving a clear and safe exit route from the home in case of a fire. These can be fitted to the front, side or rear of properties but we recommend having a pair of fire doors over two exits, increasing the possibility of a clear pathway, regardless of where the fire is.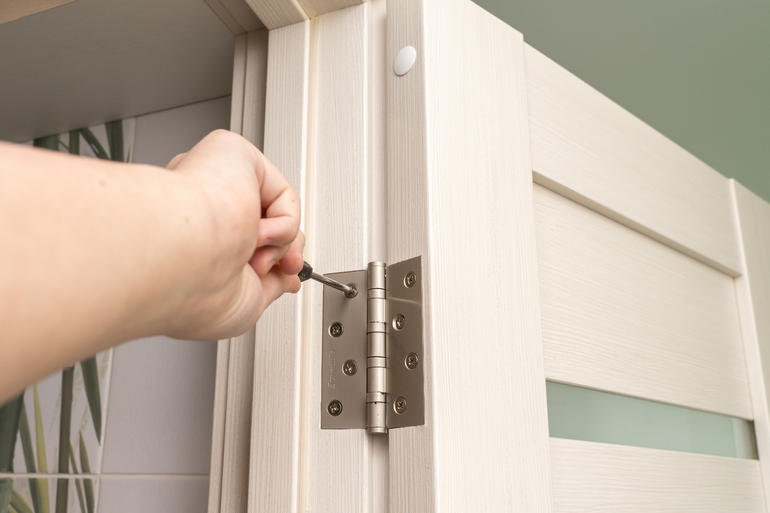 Can I fit my own fire doors?
If installing a fire door, it's important to understand the specific requirements needed for a safe and appropriate installation. Training is available for those wishing to install their own fire doors and checks should be made to ensure that the door and installation instructions are fully certified. The elements which make a fire door effective are essential so ensuring these are installed correctly is of paramount importance.
When choosing or installing a fire door you must ensure that each element is compatible with fire safety requirements, including the ironmongery and door frame.
Each part of a fire door is tested and certified individually before use in the door, and incorrect fitting can severely alter this certification and render your door ineffective. During installation follow the manufacturer's instructions to the letter to ensure competent installation and safe practice.
If you've not installed a door before we recommend that a technician install any fire doors, maximising their security, safety and efficiency.
Can you alter a fire door?
Fire doors are precision engineered, with each element rigorously tested before use in the door ensuring total effectiveness when it's needed. This doesn't mean you can't alter a fire door at all, but it means you have to take more care when altering your door to ensure you can rely on it in emergencies.
It's incredibly important to consult a technical expert for any physical alterations such as trimming, adjusting the door or changing ironmongery such as hinges. Part of a fire door's security is its relationship with the doorframe and altering this can result in damage to the intumescent strips, which may not activate properly when required.
Can you paint fire doors?
It is possible to refresh fire doors without impacting their performance or safety. Painting a fire door is a way to save money on replacing a door while still benefiting from the security and protection of a fire-safe door. Most door paints are suitable for use on fire doors which means it's easy to combine style with safety and give your doors a make-over that complements the rest of your home.
When painting your fire doors, avoid using any heat treatments or flammable chemical strippers as these may cause damage which impacts the safety of your door.
Can you trim fire doors?
Fire doors can be trimmed in certain instances, but only by trained technicians. The sides and bottom of a fire door can be trimmed per the manufacturer's instructions and technical information but the top of a fire door should never be altered in any way.
Choosing fire doors for your home
Domestic fire doors don't have to stick out like a sore thumb in fact, our collection of fire doors features a range of styles to suit any home and budget. We've picked a few of our most popular and versatile styles below to highlight how these can complement your home.
Glazed fire doors
Pre-Finished Oak Vancouver 4L Glazed FD30 Fire Door
This statement oak fire door offers 30 minutes of fire-resistant protection and panelled glazing adds another dimension to a plain wood fire door. Perfect for apartments this door lets light in spaces without compromising on the safety needed from a fire door.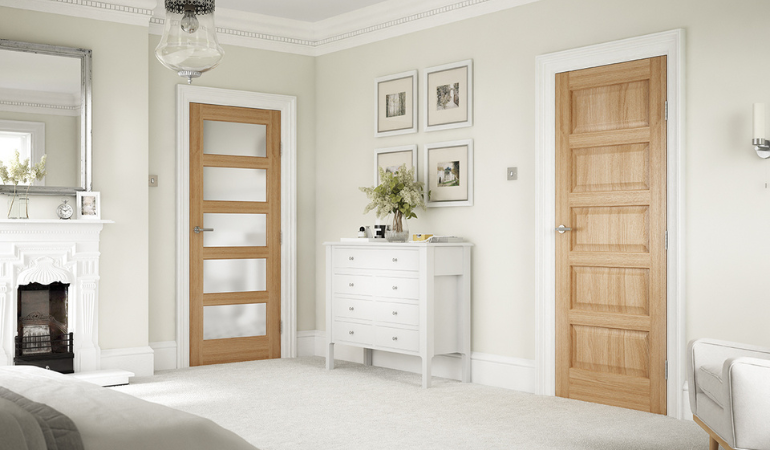 Canterbury 1 Light Clear Glazed Textured FD30 Fire Door
Perfect as a pair of double doors or on its own in single entryways this classic panelled door features glazing to the top half. Providing 30 minutes of fire protection this stylish door complements a host of interior styles while ensuring safety when you need it most.

Pre-Finished Oak Corsica 18G Central Clear Glazed FD30 Fire Door
A more contemporary choice, the Oak Corsica fire door features contrasting horizontal panels and vertical glazing down the centre. One of our most versatile styles finished in several colours the Corsica also comes with offset panelling for an even more contemporary look. Crucially, this door offers 30 minutes of certified fire protection keeping your home and your family safe without compromising on the style of your space.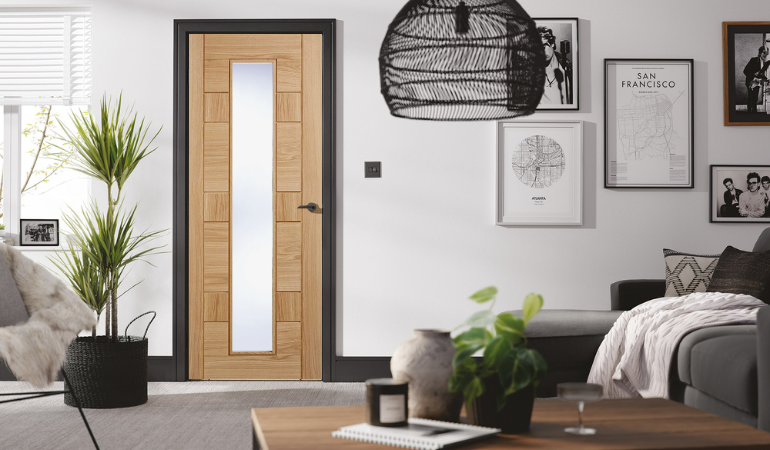 Solid fire doors

Pre-Finished Oak Belize FD30 Fire Door
A modern take on a traditional cottage door this solid wood fire door looks great in traditional homes and modern ones alike. A thick wooden border frames the long, vertical panels which give this door the traditional cottage feel. Combined with up to 30 minutes of fire protection this door combines style with substance and all-important safety.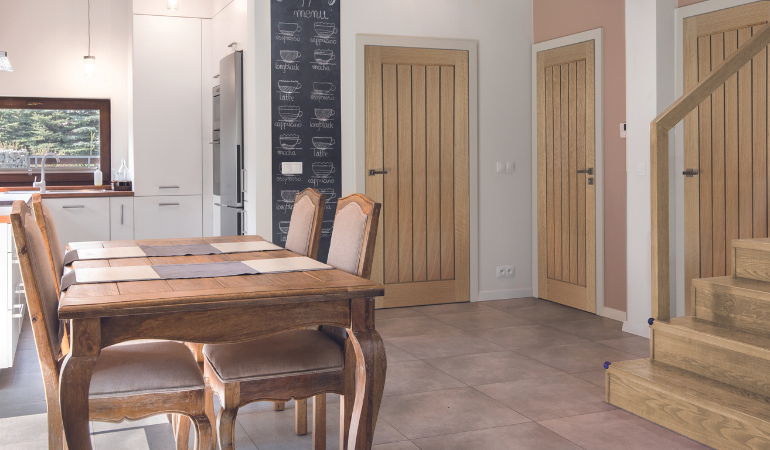 White Primed Arnhem FD30 Fire Door
A more traditional style the Arnhem fire door has three bevelled panels varying in size just enough to create some elegant contrast and bring the space to life. Whether buying multiple for maximum safety or styling this to complement the traditional doors in your home and boost your fire protection, the Arnhem's 30-minute fire resistance won't let you down.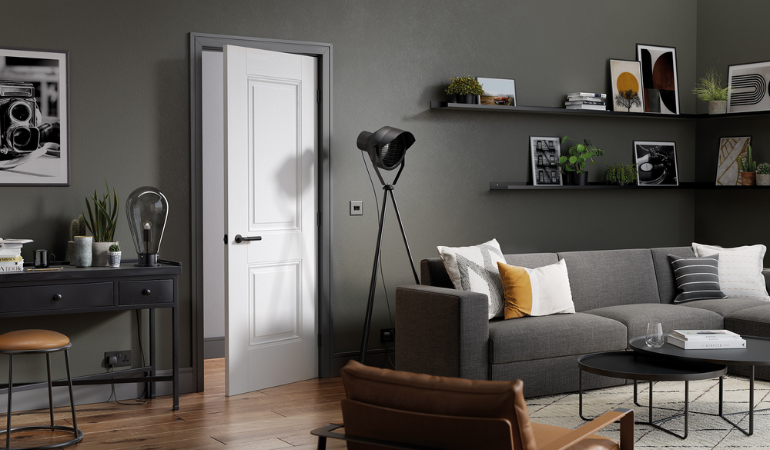 The unique staggered panels of the Coventry fire door paired with its contemporary oak finish make this the perfect modern accessory to any home. A refreshed version of a traditional four-panelled door this bridges the gap between traditional and modern, making it versatile enough for homes of all styles. Certified fire resistance of up to 30 minutes gives you peace of mind and helps protect your family and your home when you need it most.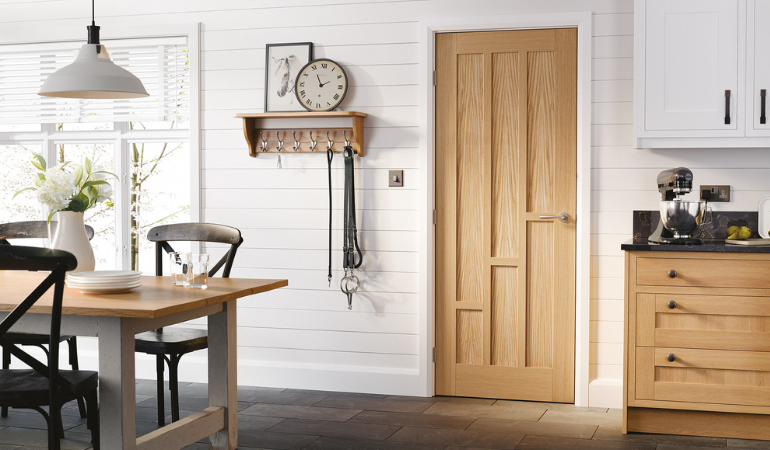 Our collection of internal fire doors features over 150 styles, finishes and glazing options that help you protect your home in style, all with certified 60 or 30-minute fire protection.
3 tips for ensuring safety and efficiency
Proper use can help you make the most of your fire doors, knowing that they're working in reliable, safe ways to help protect you and your family. These final tips help you resolve the most common errors with fire door use and ensure that your fire doors won't let you down.

Can fire doors be left open?
In order to work properly, no they should not be left open when not in use.
It's particularly important to keep your fire doors closed during the night, allowing them to react how they should and do their job. The door frame and the door must sit flush against the intumescent strips allowing these to expand, filling the gaps and preventing smoke and flames from escaping. If left open, fire doors can't work and will not contain the spread of a fire.
Should I maintain my fire doors?
Yes!
Especially if used frequently to enter or exit rooms in your home or building. The day-to-day use of doors can affect how they sit in the frame by wearing elements such as hinges and hardware. Arranging an inspection of your doors can help eliminate the risk of damage to the door or changes in its position since fitting, ensuring that your fire door does as it states and protects you, your family, and other occupants.
Will old fire doors work?
It's always best to check with a technician. The regulations around fire safety and the requirements for fire doors often change as technology and awareness develop. So, if you had fire doors fitted some years ago it might be worth checking that these will still perform as they should in the event of a fire.

Next steps (conclusion)
So there you have it, an introduction to fire doors that should help you make the right choice for your safety and style. It's important to remember that fire doors are a safety measure before an aesthetic accessory and though our range helps you achieve a stylish home you should always use your fire doors responsibly.
As well as our extensive collection of fire doors, we also stock fire door hardware and signage so whatever your needs, whether domestic or commercial your fire doors will look and perform as they should, protecting you and protecting your property.