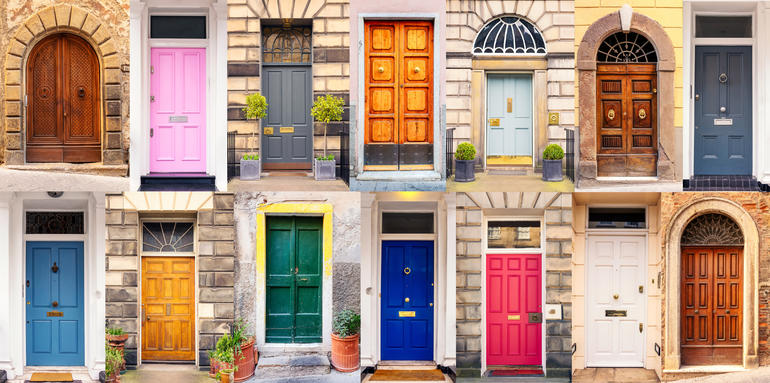 What would you recommend to someone choosing a new front door colour?
Whether you're selling your house, refurbishing it, or just want to give it a fresh look, choosing what colour to paint your front door can be a hard decision. We understand that sometimes a tricky decision requires some outside inspiration, so we asked 11 design experts from across the country to give their opinions and help you choose the best front door colour for your home.

---
Temper your choice by remembering that colours do look different outside in natural light
"Forget fashion or fitting in: don't worry if grey is all the rage, or your neighbours have all gone for green. Instead, think about what makes you happy. Temper your choice by remembering that colours do look different outside in natural light. But then go for something that will make you smile and lift your spirits every time you come home."
- Jonathan R Jones | Writer on art, design and interiors | jonathanrjones.wordpress.com
Choose a nice solid wood door - the best you can afford
"Regarding front doors, my first piece of advice would be to choose a nice solid wood door - the best you can afford. Then stain it to protect it from the rain and live with it for a while. When we bought a new front door, I was convinced that I wanted to paint it a dark charcoal grey. However, we needed to stain the door first and when we did, it brought out the natural grain in the wood beautifully. So much so, that we decided to keep it that way".
- Claire Parkin | celebratecreation.wordpress.com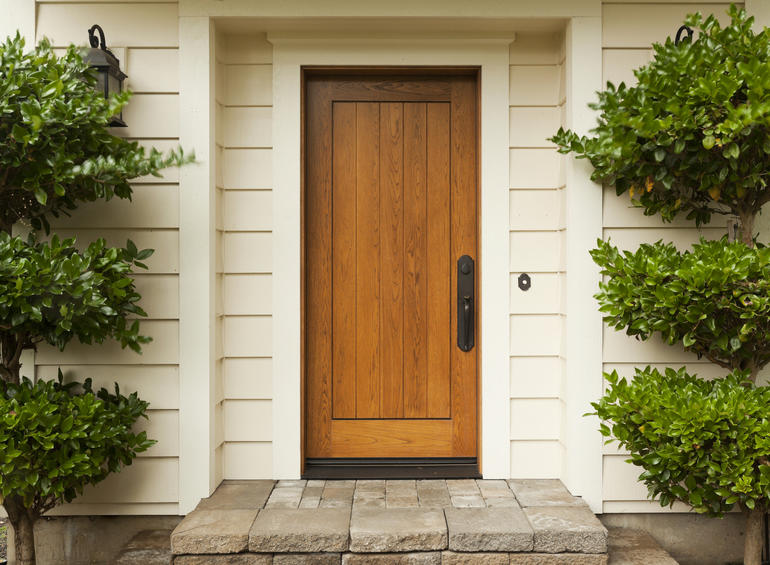 Bold colours need to be more integrated into their setting
"When choosing a colour for new front door, I recommend to consider 4 elements. The style of the property, your favourite colour, light and the type of finish.
Personally, black is such an elegant and timeless colour that goes well with any type of property being a modern conversion or Victorian townhouse. The finish, however, might differ. I like creating contrast in texture and the paint finish will do just that. Gloss or semi-gloss would go really well with rough textured brick, wood or stone. Matt finish, on the other hand, would go really well with glass or polished marble.
If you want to go for bold colours I would recommend to choose really strong rich shades, because what might seem to you as yellow in interior might be looking beige in exterior. Also, bold colours need to be more integrated into its setting. They need to flow around the external space. For example if purple is your colour, plant purple lobelia in planters or baskets on either side of your door or nearby".
- Karolina Barnes | karolinabarnes.co.uk
A Wow front door will reflect the personality and style of the person living behind it
"A front door is the first impression people are going to get of you and your home. When walking down a street, an unusual door will stand out from the crowd. A Wow front door will reflect the personality and style of the person living behind it. So it's a chance to be as bold (or reserved) as you feel. And remember first impressions are all about the details. Invest in a smart door mat, nice post box - don't forget a quirky knocker to finish it off!"
- Maxine Brady | welovehomeblog.com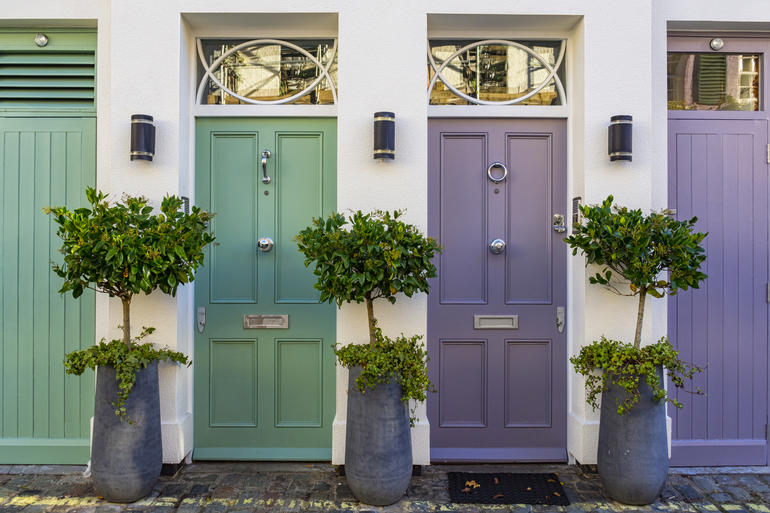 The front door is a prelude to what to expect on the other side
"The colour, the finish, the condition, the style and the door furniture are all issues you need to address when refurbishing the threshold to your home. Having recently gone through this whole process the other factor in involved is neighbour pressure.
We live on a street dominated by particular hue from a certain paint brand and as much I liked it I was determined not to go down that route. Skirting around the issue of colour to begin with, I started with small bits at the decision. I started with the finish, I knew I wanted eggshell not gloss like most- gloss highlights the slightest imperfection. Still avoiding the issue of colour I moved onto door furniture, I wanted to say 'modern and understated' brushed chrome seemed appropriate. Now, eggshell finish and brushed furniture were already going to stand out, our street consists is glossy with brass doors. I was going to push my luck a little further as I wanted to paint the door surround the same colour as the door itself to give the impression it's larger. The answer to what colour? was simply a case of looking at the colour inside and letting it pour out, after all, the front door is a prelude to what to expect on the other side. It could have been black, but not white, so grey was the winner. Not just any charcoal grey, that's the same as most of the street, it's grey with a hint of green".
- Melinda Ashton Turner | thecolourfield.net
Look at the houses either side of you on the street
"The colour of your front door should be an extension of your own tastes. If you feel like a bright pink door, then why not?! But I would recommend looking at the houses either side of you on the street, does your chosen colour compliment them, or will it stick out like a sore thumb? I firmly believe that a beautiful colour is better than boring white or black. Be bold, and brighten your street with a flash of colour".
- Lou Archell | littlegreenshedblog.co.uk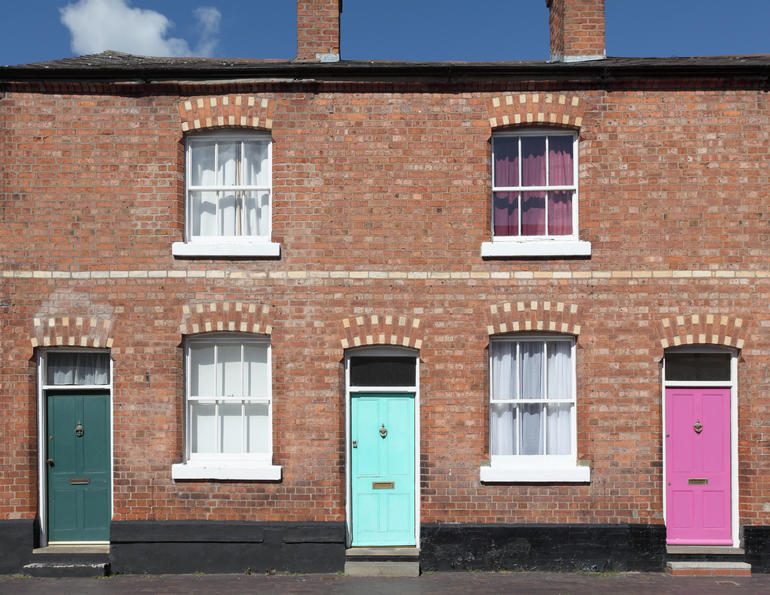 The front door is a great place to add some fun colour
"In Scandinavia, where I originate from, most houses are wooden, and the traditional paint choices are white frames on both windows and doors (This is particularly important because white helps reflect the limited light in during the dark winter months) but the front doors themselves is more of an expression of who lives there in terms of colour choice! I would say: the front door is a great place to add some fun colour, to hint at the home behind it, but to try to keep it sympathetic to the surrounding area.
I am particularly fond of pastel coloured doors, and living in a row of Victorian cottages here in the UK, I think that is what we'll do when we get around to it!"
- June Olsen | http://nostalgiecat.blogspot.co.uk
Natural, oil based paint
"I use nothing other than Little Greene as it is natural oil based paint so doesn't discolour and working in Bath they have the most beautiful colours that are in keep with the period properties I work on".
- Joanne Jones | http://cdjonesdesign.com
Consider age and style of house and colours in the garden
"When choosing a colour for your front door you need to consider a couple of key factors:
1. The age and style of your house- You need to choose a colour which is sympathetic to the overall design and style of your home, something fitting with the period and a colour which doesn't clash but compliments. For example, if you have a pink house, I wouldn't recommend an indigo front door! Muted tones work especially well for country cottages, I wouldn't say there is one particular colour which is fitted to cottages but certainly keep them muted. The opposite can be said for Victorian terraces, they are a dream teamed with colours with depth.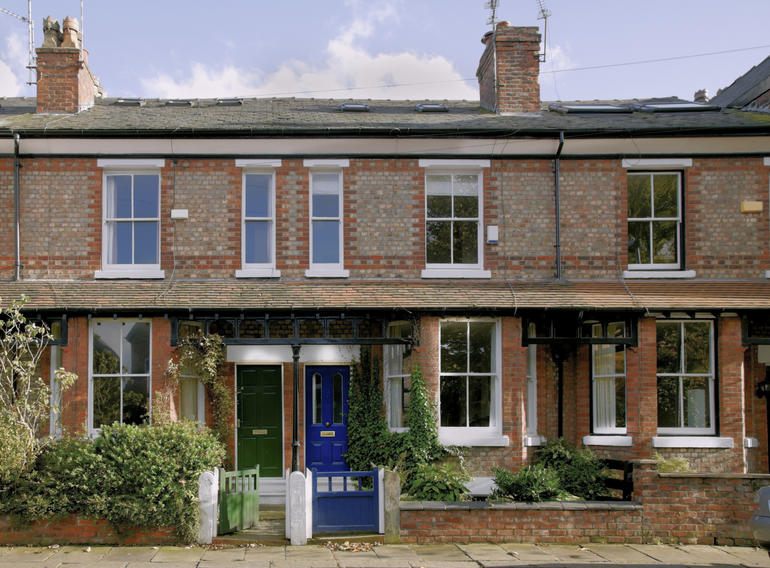 2. Think about the colours in your garden because by choosing the right colour for your doors and windows you can create a wow factor with your garden too, a deep grey for instance will ensure the greens of the garden are more vivid and alive. Again, perfect for a Victorian Terrace with clean, green hedges but for a Country cottage with subtle pink and purple wild flowers, a muted green would bring everything to life - I love Farrow and Ball Pigeon.
- Laura Adkin | dreamboxinteriordesign.blogspot.co.uk
Consider location and what's through the letterbox
1. Location
Where is your property located? For example, a country house would work well with more natural colours such as country greens, duck egg blues and varying shades of white or cream to fit the surrounding. Especially if you have a country style front door.
2. Through the letterbox
What style is the interior of your house? Your door should suit your personal style and it's the first impression your guests will have when visiting so make sure it all links in. Think of your front door as a continuation of your home and hallway.
3. If you're not planning on replacing your door, think about the current style as this will no doubt influence your choice of colour. Such as does it have stained glass? Picking out a colour from the stained glass will help make the most of this feature.
- Diana Greenhalgh | mybespokeroom.com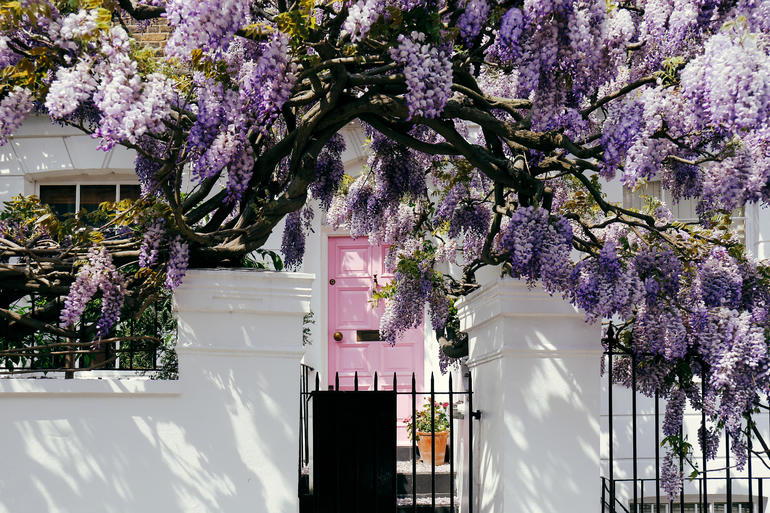 If in doubt go black
My main tip for front doors is to go black! It's such a classic colour that looks great on most styles of houses.
- Chrissy | stylemyhouse.co.uk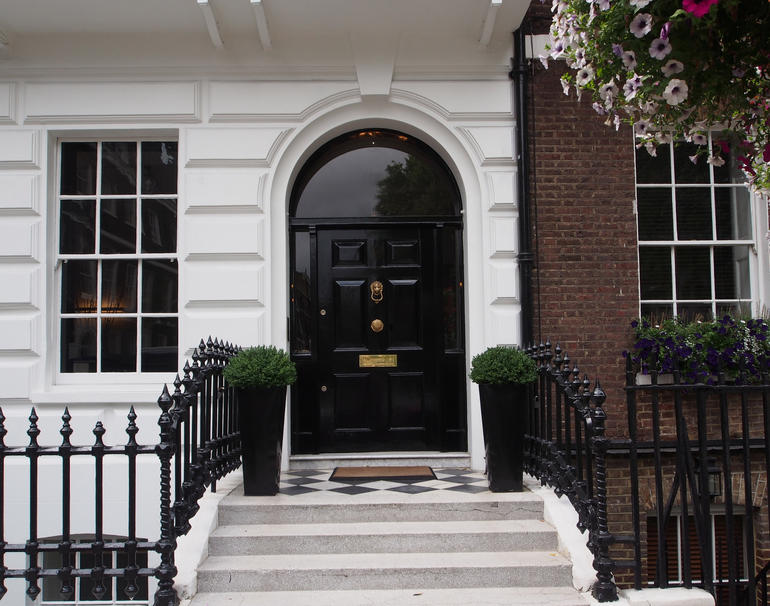 Pick a hue that says "welcome home"
After a busy day at work how wonderful would it be to be greeted by a colour that means "welcome home". And there's no better place than on your front door. Whether that's a cheery yellow, a soothing blue or a cuddle in pink, pick your favourite "welcome home" hue.
- Karen Haller | www.karenhaller.co.uk
Finding the perfect front door with Doordeals...
Whether you're looking for something bright, bold, or beautifully simplistic, Doordeals offers a wide range of expertly-crafted external doors in sizes and designs to match all your requirements. It's important to let your door reflect your personality and compliments its surroundings. If you're still unsure, get in touch and one of our experts can help you make the right choice for you!